Justin Trudeau is a hit with young people.
He has talked of helping young families, creating "better opportunities" for young Canadians. He's mobbed for selfies almost anywhere he goes.
A longtime Liberal called him the "standard-bearer" for millennials and GenXers.
But is he?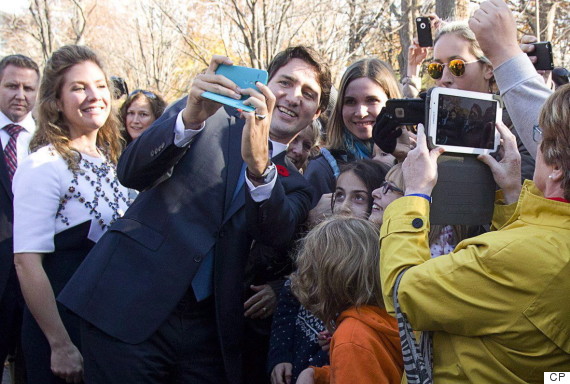 Justin Trudeau takes selfies after his cabinet was sworn in on Nov. 4, 2015. (Photo: Fred Chartrand/CP)
Paul Kershaw, the spokesman for Generation Squeeze, a group that lobbies on behalf of people in their 40s and younger, is skeptical.
Just days after Trudeau unveiled his first budget, "no one can walk away thinking that the prime minister right now is working for or prioritizing a better generational deal for a younger demographic," he told The Huffington Post Canada.
While certain critics are worried about Canada plunging into deficit, Generation Squeeze is more concerned about a "spending gap" that the budget allegedly creates between taxpayers under 45, and everyone else.
In a news release issued on Tuesday, it said the budget spends over $21,000 on people aged 65 and over; $7,300 per person between the ages of 45 and 64; and about $4,550 on people younger than that.
All this at a time when the typical senior is nearly "nine times richer than the typical millennial," according to a BMO study.
The "spending gap" isn't a Liberal invention, Generation Squeeze said. Stephen Harper's Conservative government spent five times more per retiree than on people under age 45.
But Trudeau's budget makes it worse.
Old Age Security (OAS)
Generation Squeeze noted that spending on Old Age Security (OAS) alone will jump by $11.3 billion per year until 2019/2020 after Trudeau restored the age of eligibility to 65 from 67 (its cost is expected to rise even further in subsequent years).
Meanwhile, spending on medical care will grow by $6.2 billion every year up to 2019/20 — and almost half of health spending goes to people aged 65 and older, it said.
Kershaw isn't trying to drive a wedge between generations — "It's important for government budgets to ensure my 71-year-old mom and 100-year-old grandmother have the medical care and retirement income security they deserve," he said.
But he's concerned that Trudeau isn't giving as much attention to the challenges younger people face, as he is to seniors' challenges.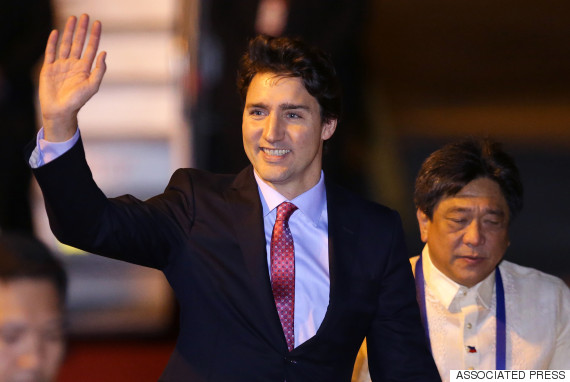 Justin Trudeau waves on his arrival for the Asia-Pacific Economic Cooperation (APEC) summit in Manila, Philippines, Tuesday, Nov. 17, 2015. (Photo: Aaron Favila/AP)
There are items in the budget that are good for young families, he said — the Canada Child Benefit, for example, will pay $4,650 per year to households with income of $90,000, and two children aged six to 17.
But at a cost of about $4.5 billion more per year than the benefits it's replacing, it doesn't nearly match the $11 billion more that OAS will cost every year.
Reducing costs
There are ways to lower the cost of programs such as OAS on future generations, that don't involve changing the age again.
One of them is reducing the "clawback" level, or the income at which seniors are eligible to receive it.
Currently, seniors who make up to $73,756 receive maximum monthly payments of $570.52. Those payments are subject to a recovery tax at any income above that, and people don't receive any OAS if they make more than $119,398.
"Are we striking the right balance to make this country work for all generations?"
Reducing the income at which you can collect OAS is an idea that Keith MacIntyre, a partner at national accounting firm Grant Thornton LLP, is receptive to.
OAS, he said, is based on an analysis of how much people need it — and that need is largely determined by age, not income.
If people are concerned about the program's cost, "one area that they might take a look at is scaling back when the [clawback] applies," MacIntyre said.
But OAS spending, he said, isn't the only aspect of the budget that doesn't help millennials.
Youth unemployment
He feels the budget didn't put enough money toward innovation and commercialization — more specifically, the process of introducing a product to the marketplace.
And that's a focus that he feels could have helped with youth unemployment.
Canada's unemployment rate for people aged 15 to 24 was 13.3 per cent in February — higher than it was before the financial crash, and twice the rate for the rest of Canada's population.
The federal government, MacIntyre said, could tackle the issue using a "patent box" — a tax regime that provides companies with lower tax rates when they're commercializing their own products.
The U.K. has a patent box giving companies that patent their own inventions a corporate tax rate that, at 10 per cent, is half the regular one.
"If you take a look at companies that are innovating and commercializing, they are looking to employ the millennials," he said.
And a patent box, MacIntyre added, could help them reduce tax costs and bring their products to market.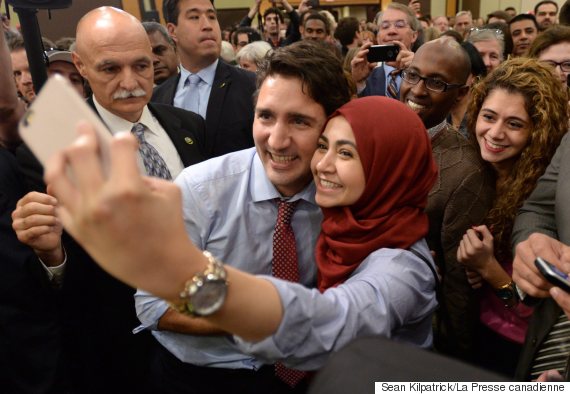 Justin Trudeau poses for a selfie. (Photo: Sean Kilpatrick/CP)
The federal budget did not include a "patent box," but it did earmark $2 billion for a fund that would go to commercialization, research and training facilities on school campuses.
Other measures that could help youth employment include $73 million over five years to spur student co-op placements, CBC News reported.
But while it may lead to more placements, the program's cost was whittled down from a promised $40 million per year to about $14 million annually, if divided evenly.
The Liberals also left out an incentive to hire workers between the ages of 18 and 24 to permanent jobs, in exchange for breaks on EI premiums.
What to do?
But how can a government act for all generations? Kershaw said Canadian politicians could start tracking their spending by age.
"The pattern that's unfolding is routinely we're finding the biggest sums of money to invest in people over 65," he said.
"But at the same time, socioeconomic circumstances, they make younger Canadians feel the squeeze much more than older demographics."
Kershaw noted that Canadians were once more financially vulnerable later in their lives — but he said that's no longer true, with policies like health care and OAS.
He thinks it's time for government to tackle economic issues for younger people with an urgency similar to what's been done for the older population.
"Are we striking the right balance to make this country work for all generations?" he asked.
Also on HuffPost