After a deadly bomb blast killed more than 65 people at a public park in Lahore, Pakistan, Facebook accidentally sent safety checks to people far away from the blast.
The location-based feature sends a notification to Facebook users who may be near a natural disaster, asking them if they want to let family and friends know if they're safe.
However, it accidentally sent the notifications to people all over the world, who wouldn't be anywhere near Pakistan.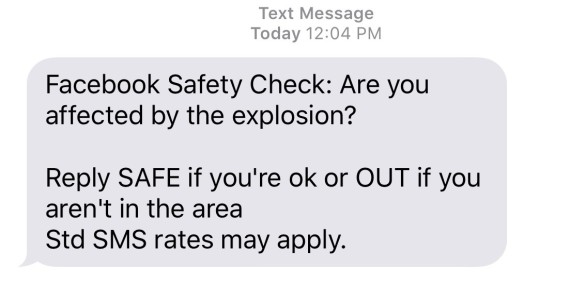 Facebook users in Canada received safety check notifications on the mobile app and via SMS. (Screenshots)
Many tweeted to Facebook that they were not in Pakistan.
Why does @facebook think I'm in Pakistan pic.twitter.com/9IT2wzRrBI

— Tania (@tania210) March 27, 2016
Seems @Facebook now thinks I'm at site of all terrorist attacks. It just said "it looks like you're in the area affected" by #Lahore bombing

— Peter Spiegel (@SpiegelPeter) March 27, 2016
Uh definitely not in Pakistan, but thanks @facebook pic.twitter.com/DQrnpYyx8Z

— Sarah Applebaum (@SarahApplebaum) March 27, 2016
Not in Pakistan, thanks for looking out though @facebook
If you're there, stay safe! pic.twitter.com/RlrFGsf3Df

— Travis Day (@casuallytravis) March 27, 2016
Others pointed out that the safety check actually made people aware a bombing had occurred.
@raju @facebook if it wasn't for fb asking if i was near explosion i would not have found out about it, i live in California USA

— julie (@juliearmendare1) March 27, 2016
Maybe @facebook is trying to do what mainstream media fails spectacularly at: informing people of suffering outside of western capitals.

— Yousef Munayyer (@YousefMunayyer) March 27, 2016
In an email to Gawker, Facebook said they had activated the safety check in Lahore.
"We apologize to anyone who mistakenly received a notification outside of Pakistan and are working to resolve the issue."
The feature was activated after the Brussels attacks earlier this month.
Facebook was criticized for not implementing the safety check after a bombing in Beirut, Lebanon, but doing so for attacks in Paris the day after.
Also on HuffPost
Earthquake In Afghanistan,Pakistan And India 2015