Donald Trump has made a range of sexist comments about women over the years, but you might think his wives would be immune.
A clip of the now-U.S. Republican frontrunner and first wife Ivana on Oprah back in 1988 has resurfaced, and it still managed to shock us.
"We get along very well and there's not a lot of disagreement because ultimately Ivana does exactly as I tell her to do," Trump told Oprah.
Ivana, laughing, then said he was a "male chauvinist."
"He's not a chauvinist, is he?" Oprah asked.
"Oh, he's the worst," Ivana replied.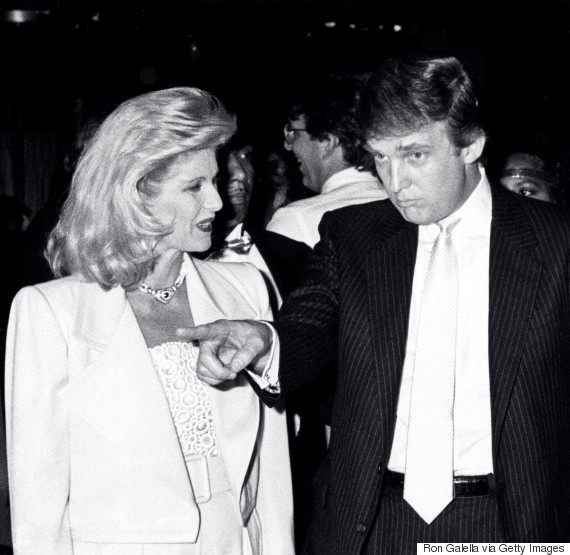 Ivana Trump and Donald Trump during Mike Tyson vs Michael Spinks Fight at Trump Plaza - June 27, 1988 at Trump Plaza in Atlantic City, New Jersey, United States. (Photo by Ron Galella/WireImage)
While it's hard to know whether or not they were joking, Ivana later opened up about much more serious problems in their marriage.
She once accused him of raping her during a deposition that took place as part of divorce proceedings, The Daily Beast reported.
That claim appeared in the 1993 book "Lost Tycoon: The Many Lives of Donald J. Trump," which was written by reporter Harry Hurt III.
But a statement from Ivana was also attached to the book's first page in which she said she felt "violated" by the experience, but didn't want the word "rape" to be taken literally.
The statement read as follows:
"[O]n one occasion during 1989, Mr. Trump and I had marital relations in which he behaved very differently toward me than he had during our marriage. As a woman, I felt violated, as the love and tenderness, which he normally exhibited towards me, was absent. I referred to this as a 'rape,' but I do not want my words to be interpreted in a literal or criminal sense."
In 1992, Ivana told Oprah, after her divorce, that she "will not let men dominate me anymore."
She is now supporting Donald's bid for the U.S. presidency, PageSix reported in January.
"We get along very well and there's not a lot of disagreement because ultimately Ivana does exactly as I tell her to do."
Now-wife Melania told Barbara Walters in November that she supports her husband's political ambitions.
But she also said in 1999 that if Trump ever became president, that she would be a "traditional" First Lady, "like Betty Ford or Jackie Kennedy."
A recent NBC poll showed that 70 per cent of female American voters have a negative view of Trump.
The presidential hopeful defended many of his past comments during a radio interview Monday, saying he was a celebrity entertainer when he made them.
"The rules aren't different, but certainly I never thought I would run for office," he told WTMJ host Charlie Sykes.
While a campaigning Trump continues to draw fire for his remarks on female reporters and fellow candidates' wives, he still maintains he respects women.
The media is so after me on women Wow, this is a tough business. Nobody has more respect for women than Donald Trump!

— Donald J. Trump (@realDonaldTrump) March 26, 2016
Like Us On Facebook

Follow Us On Twitter

Also on HuffPost
7 Things Every Donald Trump Supporter Should Know