An Alberta couple might have felt like one in a million after finding out they were pregnant with identical quadruplets, but the odds are actually a bit crazier — one in 67 million, according to their nurse.
Tim and Bethani Webb are newlyweds in their early 20s. The couple had hoped to eventually have two to four children, but were a bit shocked to find out they would be having four all at once.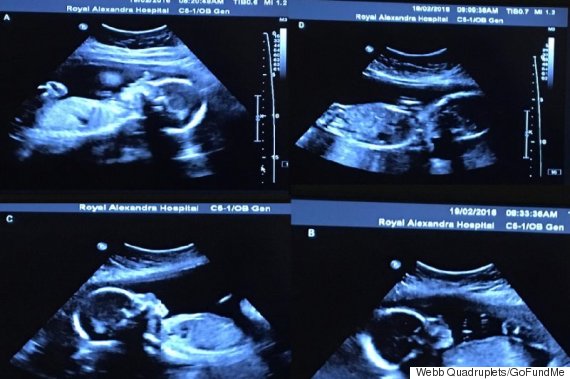 A February ultrasound shows the Webb's four girls.
"My friends are like, I don't know if I should say congratulations or I'm sorry," Tim said, in an interview with iNews 880.
According to Today, there are only about 60 to 70 sets of identical quadruplets in the world.
"My friends are like, I don't know if I should say congratulations or I'm sorry."
The soon-to-be parents have picked out names for their girls — Abigail, McKayla, Grace and Emily — but haven't decided which girl will receive which name. For now, they're simply referring to them as babies A through D, according to Global News.
As for how they'll tell them apart? Tim says he plans on painting the girls' toenails different colours.
The village of Hythe in northern Alberta has rallied around the Webbs.
"There are people around the area making little hats, getting diapers ready, and making bracelets," Bethani told My Grande Prairie Now, a news website.
One of the couple's friends set up a fundraiser, to help the young, single-income family buy multiples of the necessary baby supplies.
The Webbs from Hythe, AB are in #yeg for health precautions as they're pregnant with IDENTICAL QUADRUPLETS. pic.twitter.com/1B77aqorK1

— Sarah Kraus Global (@SarahNKraus) March 27, 2016
There are a number of risks associated with carrying four babies, so Bethani has been admitted to Edmonton's Royal Alexandra Hospital, where she'll stay until the girls are born — likely well before her June 24 due date.
All four babies are growing well, and are at a healthy weight, Bethani wrote on Facebook.
Like Us On Facebook

Follow Us On Twitter
Also on HuffPost:
Mom Expecting Five Babies Has A Breathtaking Photo Shoot