A chef from Cambridge Bay, Nunavut is going to have his hands amputated after suffering severe frostbite.
Romeo Tucci was walking to a cabin during a whiteout earlier this month when he fell through a crack in some ice, CBC News reported Tuesday.
Soaked and disoriented, he found his way to a health care centre. By the time he arrived, his hands were "frozen solid like a rock and white like a ghost."
(WARNING: GRAPHIC IMAGE)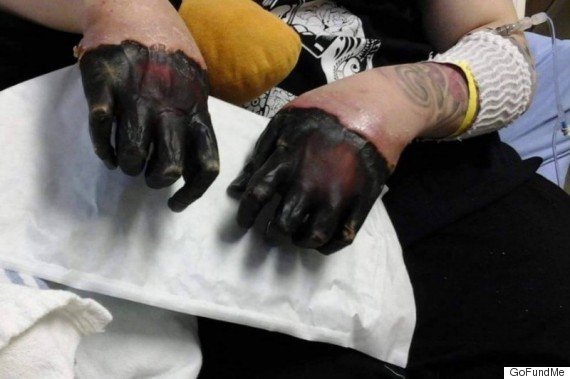 Romeo Tucci's hands, post-frostbite. (Photo: GoFundMe)
Frostbite is a condition that happens when extreme cold damages both skin and body tissues, according to the U.S. National Library of Medicine.
You can recover from frostbite if it doesn't affect your blood vessels — if not, the damage is irreversible.
Tucci suffered frostbite to "95 per cent of his hands," according to a GoFundMe page, and they're being amputated in an Edmonton hospital on Apr. 5.
His family is raising money through the site to pay for prosthetic hands, as well as a hotel and airfare.
"I'm scared," Tucci told CBC News. "I'm a chef. I need my hands."
This isn't the first time that graphic images of frostbite in Canada have appeared on the Internet.
Last year, an Australian woman posted photos of her frostbite to Imgur after she fell asleep outside in Prince Albert, Sask. when it was -30 degrees Celsius.
She was able to keep her hands and made a full recovery.
Like Us On Facebook

Follow Us On Twitter

Also on HuffPost:
Photo gallery

Australian Woman Gets Frostbite

See Gallery