A new poll suggests that while the vast majority of Ontarians disapprove of Premier Kathleen Wynne's performance, her top rival remains a mystery to many voters.
The Forum Research poll released Tuesday shows just 20 per cent of voters approve of the job Wynne's doing, while 64 per cent disapprove. Thirty per cent of voters, however, would still cast a ballot for Wynne's Liberals if a provincial election were called today.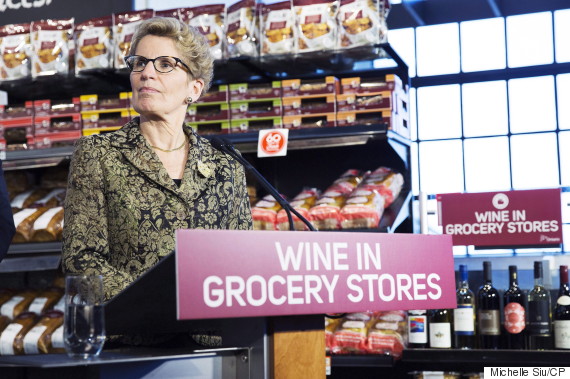 Ontario Premier Kathleen Wynne appears at a press conference in a Toronto supermarket on Feb. 18, 2016. (Photo: Michelle Siu/The Canadian Press)
Progressive Conservative Leader Patrick Brown, meanwhile, has the approval of 26 per cent of voters, even though his party leads the poll with 40 per cent support overall.
But more than half of voters — 52 per cent — told Forum they don't have an opinion of Brown, even though he has led the provincial Tories for almost 11 months.
NDP Leader Andrea Horwath has the opposite problem as Brown. Horwath has the highest personal approval at 35 per cent, but just 24 per cent of voters say they would support her party.
On the question of who would make the best premier, things aren't much better for the incumbent. Wynne scores 14 per cent, compared to 23 per cent for Brown and 18 per cent for Horwath. The most popular answer — at 25 per cent — is "none of these."
"Patrick Brown needs to make himself more known to the electorate, turning some of the 'don't knows' into approval."
Of course, there's plenty of time for Wynne to turn things around before the next provincial election in 2018. And that will likely mean trying to define the 37-year-old Brown, a former Conservative MP with a track record of social conservatism.
"The PCs are strongly outperforming their leader in appeal, which could present a problem in an election situation," Forum president Dr. Lorne Bozinoff said in the poll summary.
"Patrick Brown needs to make himself more known to the electorate, turning some of the 'don't knows' into approval."
The poll was conducted via interactive voice response on March 23 among 1,225 randomly selected Ontarians. Results are considered accurate within three percentage points, 19 times out of 20.
Brown promises change
Brown has spearheaded a rebranding of the once-mighty PCs since winning the party leadership last May.
At his party's convention earlier this month, he surprised some by coming out in favour of putting a price on carbon to protect the environment.
"Climate change is a fact. It is a threat. It is man made," he told delegates during his keynote address.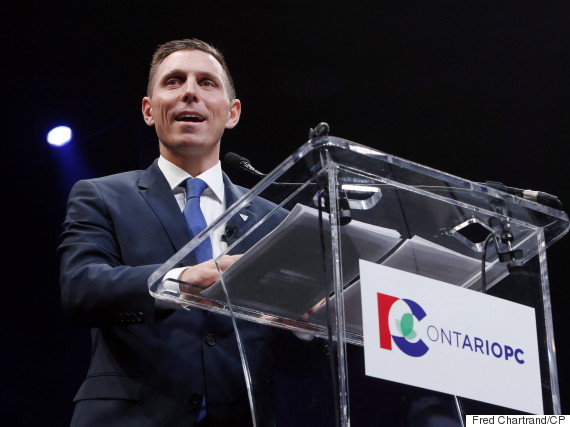 Ontario Progressive Conservative Leader Patrick Brown delivers a speech at his party's convention in Ottawa on March 5, 2016. (Photo: Fred Chartrand/The Canadian Press)
"We have to do something about it, and that something includes putting a price on carbon."
He also spoke about the need for Tories to build a broad coalition and welcome voters from all walks of life.
"It doesn't matter who you love. It doesn't matter where you worship," he said. "It doesn't matter if you belong to a union."
The party unveiled a new party logo featuring a green leaf and launched its re-brand with an optimistic ad painting Brown as a "new kind of conservative." The spot, which appears to borrow a line from Prime Minister Justin Trudeau that "better is always possible," shows Brown marching in Toronto's Pride Parade last summer.
Brown also spoke at an event in Barrie last week, dubbed "Conservative Futures," that marked the unofficial kickoff to the federal leadership campaign.
The PC leader bluntly said his former party "lost its way" in the last campaign by alienating multicultural communities, adding federal Tories went "too far on the niqab."
He also addressed his recent comments on climate change, conceding they "raised a few eyebrows."
"I never bought for a second you can't care about the environment and be a conservative," he said.
With files from Zi-Ann Lum, The Canadian Press
ALSO ON HUFFPOST:
Ontario Sunshine List: Key Names