CALGARY — Kay Pike stands in front of a giant lit mirror, dabs her brush into a glob of paint and touches it to her skin.
She'll repeat the motion thousands of times over the next 12 hours as she transforms herself from a willowy blond artist to the dark-haired Man of Steel for a throng of viewers following along on the Internet.
"We don't talk about gender roles on my channel. In fact, when people say you should paint yourself as Superwoman, I'm like, 'No. I want to paint myself as Superman,''' says Pike, who, when she's done, looks like she could have been ripped from a comic book panel.
"It doesn't matter. When you're painting a canvas, you're not thinking this is a girl canvas or this is a boy canvas.''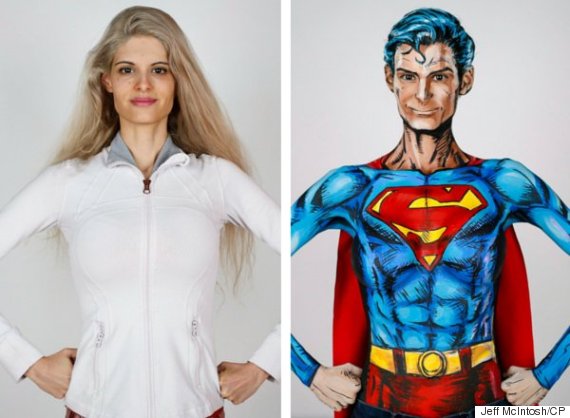 Over a 12-hour period, Kay Pike transformed herself into Superman. (Photo: Jeff McIntosh/CP)
Pike is a fan of cosplay in which participants wear costumes and fashion accessories to represent a specific character from anime, comic books and cartoons, video games or movies.
Twice a week, the 28-year-old spends up to 15 hours turning her body into a different character for an Internet audience.
"I've been painting my whole life. It kind of comes easily to me, but it's a lot of practice and hard work too,'' Pike said in a interview with The Canadian Press at her studio in northwest Calgary.
Watch Pike transform into Superman. Story continues below.
Kay Pike Transforms Into Superman



"Art is art. I'm one of those art class nerds that would go and eat lunch in the art room and hang out with the art supplies.''
After sitting as a body paint model for a friend, Pike realized she could still dress up without having to make a costume.
"It's magic.''
"Art is art."
She posted a video of her first solo effort on Reddit and it caught the attention of Twitch.tv, a live-streaming company in San Francisco.
"One week later I was live streaming body paint on Twitch.''
Pike started in December at Twitch and already has 163,000 followers on Instagram.
Her sessions are a mix of reality TV and info-tainment. There are contests for signed prints or balloon animals she makes on screen.
Superman Bodypaint Timelapse

Beautiful Music composed and performed by: @laurenceowen www.laurenceowen.co.uk http://bit.ly/1UTxQBLThis is what I painted last time on https://www.twitch.tv/kaypikefashion and I am painting again today.This project marked a very emotional point in my life. I believe forever now, whatever your dreams are in life you must Dream Big#superman #schiz0mania #manofsteel #comic #hero Superman Batman v Superman: Dawn of Justice Scott Snyder Jim Lee Charles Soule Tony Daniel BATT Matt Banning Tomeu Morey Emanuela Lupacchino #paint #painting Twitch#twitch #twitchtv DC Comics #DCcomics #dawnofjustice #sillyfarm #makeupartists #makeupartistry #makeupartistsworldwide #bodyart #bodyartists #facepaint #faceartists #facepainting #facepainters #faceandbodyart #faceandbodypainters Fxcosplay #comic #comicbook ****http://www.sillyfarm.com Silly Farm Suppliesthe #fabmakeup Magic blue is what made Superman's illusion work. Also used FAB brilliant blue, black, seafoam ,sky, rage red, bright yellow. 6 Paints to rule them all.

Posted by Kay Pike (Designer/ Model) on Saturday, 26 March 2016
She receives a little advertising money, but relies more on donations from viewers to offset her costs and from Patreon.com, a crowdfunding site for artists. An alarm that goes off when people make donations.
There is also cash from her fashion line, which she sells at comic conventions, as well as appearance fees.
"It's like small income from a lot of different places that add up to a mortgage payment.''
"It's magic.''
Superman is a favourite of her husband, Moose, who narrates, reads posts from her followers and runs things behind the scenes.
In between singing along to pop music and answering questions from her followers, she gives step-by-step details on how she goes about creating the character.
The audience is an equal split of male and female fans between 18 and 38.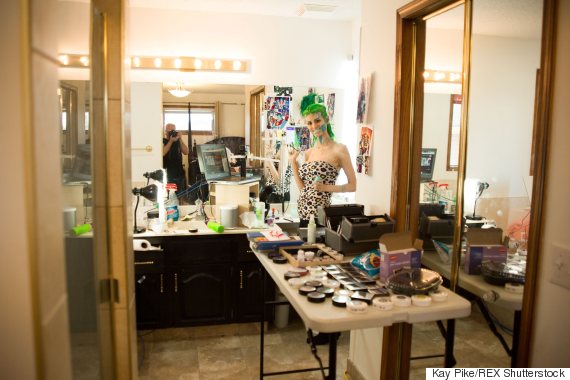 Artist Kay Pike pictured in her studio. (Photo: Kay Pike/REX Shutterstock)
She explained she was led to painting characters for cosplay "to get out of some mega-social anxiety. Having the fashion line we're going to the shows, right? I totally, 100 per cent, could not talk to anyone on the other side of the camera.
"I loved comic conventions and anime conventions, so getting interested in being (the characters) was to get over social anxiety.''
Pike doesn't have any favourites. She refers to all her creations as her "little paint children.''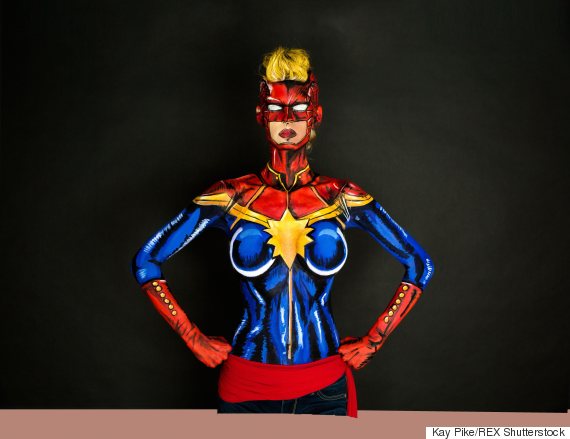 Kay Pike bodypainted as Captain Marvel. (Photo: Kay Pike/REX Shutterstock)
She said it would be boring and lonely to do the painting without an audience.
"While you're painting it, it's a lot more satisfying ... because you have the joy of creation.
"At the end, it's a little sad to wash it off.''