Adele officially has competition for the title of '"Carpool Karaoke" queen.
During Tuesday night's episode of "The Late Late Show with James Corden," pop sensation Jennifer Lopez joined the talk show host for a round of his popular karaoke segment. Singing to her hits "Love Don't Cost a Thing" and "On The Floor" as well as the Bruno Mars classic "Locked Out Of Heaven," these two just set the standard for karaoke.
But it isn't just her incredible vocals and fun dance moves that make her a contender for carpool karaoke queen.
The "American Idol" judge's contact list might just be the greatest thing we've ever seen. In addition to singers Demi Lovato, Chris Brown, Fergie and Iggy Azalea, Lopez's cellphone also contains the numbers of big name stars Bradley Cooper, Dwayne "The Rock" Johnson and Leonardo DiCaprio — who Corden couldn't resist prank texting.
"Hey baby, I'm kinda feeling like I need to cut loose. Any suggestions? Let me know. - J.Lo, you know from the block," Corden wrote to the Oscar winner, much to the embarrassment of the singer.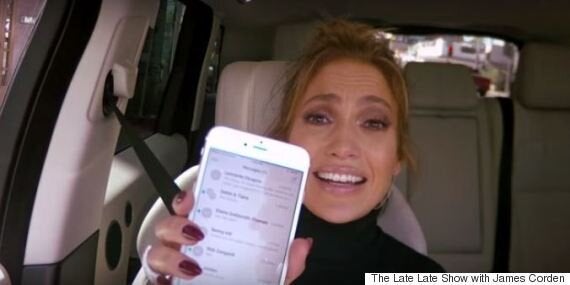 But the starlet got the last laugh when DiCaprio texted back a few songs later.
Watch the full clip below to find out what he had to say.