Bursts of "We love you" were shouted from the crowd outside Toronto's City Hall Wednesday as the body of Rob Ford was carried into a waiting hearse.
Standing metres away was the former mayor's family: his widow Renata, and the couple's children Stephanie and Doug Jr.
Renata acknowledged the Ford Nation supporters by waving and blowing kisses to the crowd.
Rob Ford's wife Renata blows kisses to the crowd of Ford Nation supporters at city hall alongside Ford's children https://t.co/tTpLQ0qJg4

— Globalnews.ca (@globalnews) March 30, 2016
Though she stood behind her daughter Stephanie as the 11-year-old gave a moving eulogy, Renata said little at the downtown funeral service.
"I can't even imagine the pain she's going through," said Ford's nephew Michael in a CP24 interview hours after the service wrapped at St. James Cathedral.
Despite the all media attention on her husband since he assumed the mayor's office, Renata mostly stayed out of the public spotlight.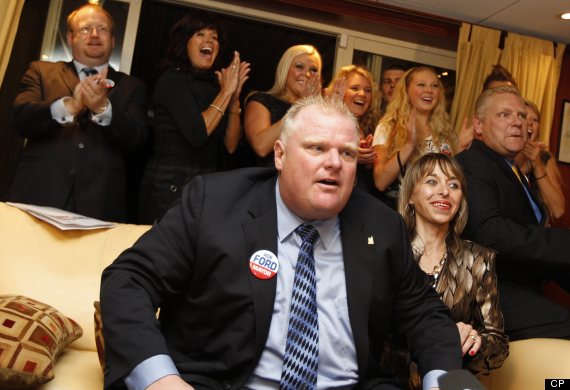 Rob Ford watches election results at his mom's home on October 25, 2010. (Photo: Peter Power/The Globe and Mail via The Canadian Press)
Little is known about her, aside from the fact she was raised by Polish parents in Etobicoke and that her maiden name is Brejniak.
The couple's private life came into the public eye in 2008 when Ford, then a councillor, was charged with assault and uttering a death threat to his wife.
The charges were withdrawn after the Crown felt Renata's statements were inconsistent.
Three years later, after Ford was elected mayor, the couple's home life made headlines in the Toronto Star. Renata's mother called police on Christmas morning to say her son-in-law had been drinking and was taking his children to Florida against his wife's wishes.
Renata's father later called the newspaper to say the 911 call was a mistake. No charges were laid.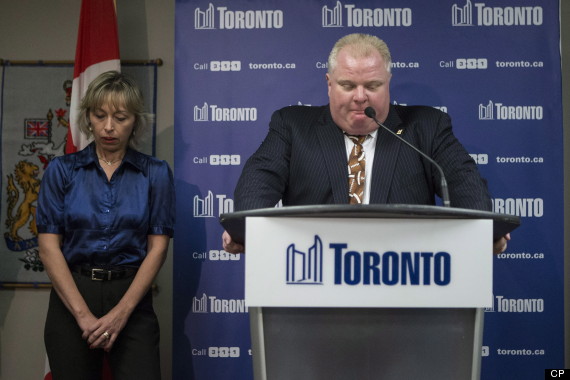 Rob Ford apologizes for crude remarks he used at a news conference, as his wife Renata looks on. (Photo: Chris Young/The Canadian Press)
After Ford swept into the mayor's office with a landslide victory in 2010, his wife more or less stayed out of the public eye.
But three years into his mayoralty, Renata made a rare public appearance a day after her husband made controversial comments about the couple's sex life at an impromptu media scrum.
In response to reports he made lewd comments toward a female staffer, Ford said he was "happily married" and had "more than enough to eat at home."
Ford apologized for the "unforgivable" language he used in his "graphic" remarks as his wife awkwardly stood next to him with her hands clasped, shifting uncomfortably.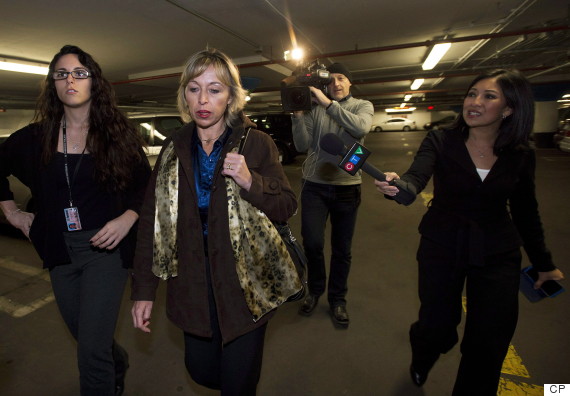 Renata Ford, second left, is escorted to her car by staff after attending a press conference with her husband in 2013. (Photo: Nathan Denette/The Canadian Press)
"For the past six months I have been under tremendous, tremendous stress," he said at the time, referencing the media circus that erupted after images of him seemingly smoking crack cocaine surfaced.
"The stress is largely of my own making. I have apologized and I have tried to move forward," he said at the time.
Ford Nation's first lady
Ford was fiercely protective of his wife's privacy, and dodged reporters' questions about her age or occupation. His staff were also known to shoot down queries into Renata's background.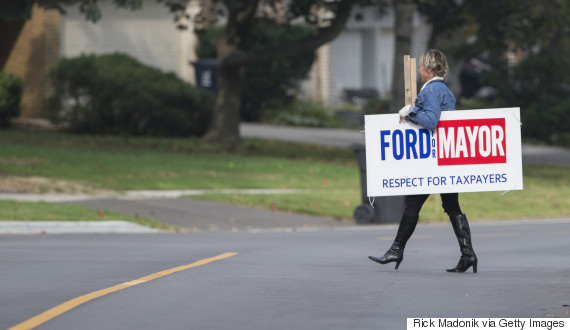 Rob Ford's wife, Renata, walks across her street with a sign and hands it to a neighbour on Oct. 2, 2014. (Rick Madonik/Toronto Star via Getty Images)
What is known about Ford's widow can be credited to the city hall reporter who broke the story of Ford's video that made him infamous.
Robyn Doolittle's book "Crazy Town" revealed that Renata was previously married to a Polish man named Artur Kisicki, a cabinetmaker. She married when she was 22 in June 1993, but the marriage didn't last.
The couple separated 18 months later, and Kisicki filed for divorce the following year.
"Court records do not indicate what led to the marriage breakdown, although a source close to the family says Renata's drinking played a role," Doolittle's book states.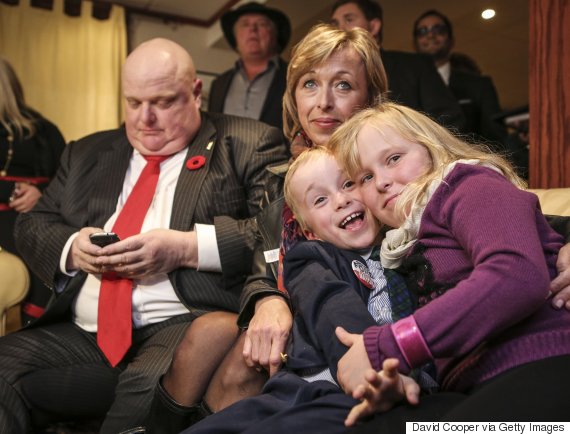 Rob Ford checks his phone as Renata embraces daughter Stephanie and son Doug Jr. as the Ford clan watches the results on TV in the basement of the family home on Oct. 27, 2014. (Photo: David Cooper/Toronto Star via Getty Images)
Both Rob and Renata were raised in the same Etobicoke neighbourhood and met while attending the same high school — Scarlett Heights Collegiate — but were a few years apart.
It's not known exactly when the two started dating. But they saw each other for years before Ford reportedly proposed after returning from Florida in 1999. That's where police had found him in possession of a marijuana joint and arrested him for driving under the influence.
Last words
A day after Ford died, the Toronto Sun's Joe Warmington spoke to Renata about her family's loss.
In an exclusive interview, she shared that her husband's last words to his family were, "I don't want to leave you guys."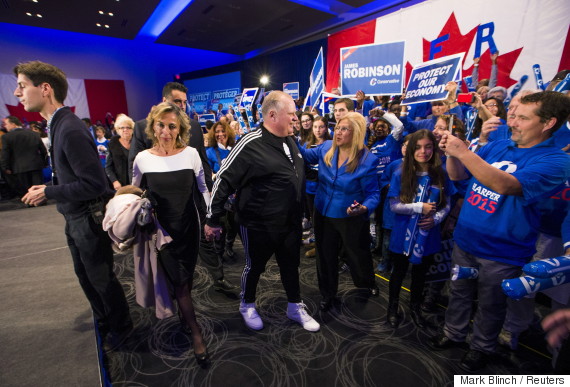 Former Toronto mayor Rob Ford and his wife Renata leave a rally for Stephen Harper in Toronto on Oct. 17, 2015. (Photo: Mark Blinch/Reuters)
And despite their lives being shared with an aggressive cancer the last year and a half, the mother of two said the silver lining was that Rob was finally home more for "quality" family time in his final months.
"I am really grateful for that," she said.
Read more:
Also on HuffPost
Renata Ford, Wife Of Toronto Mayor