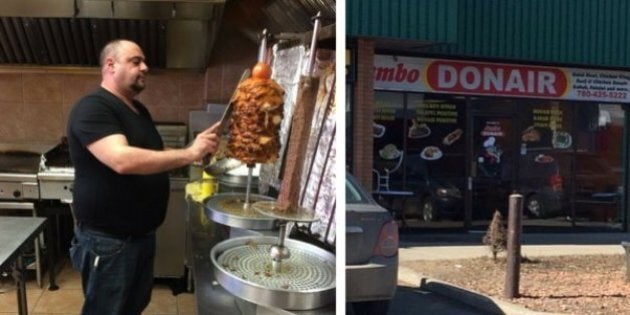 An Edmonton donair shop owner is being rewarded for a small act of kindness.
Maher Taweel, owner of Jumbo Donair, was manning the shop on Monday when a young man came in who couldn't afford to buy any food, he told CBC.
Without hesitating, Taweel asked the man what he wanted and sent him off with a large meal.
The moment might not have seemed noteworthy to Taweel, but it caught the eye of customer MacKenzie Brandvold, who posted a note about the encounter on Facebook.
"Not only did he give this man a free meal, he made me realize we can't judge people based on their circumstances," Brandvold wrote. "Everyone do me a favour and stop by Jumbo Donair. Help this man put more food in hungry people's belly."
Brandvold's post quickly gathered steam, and was shared thousands of times on Facebook, sending flocks of customers to Jumbo Donair. The attention has been absolutely overwhelming for Taweel's business.
And he plans to keep on feeding those in need.
"If today I help people, tomorrow maybe I need help, so that's what I do," Taweel said in an interview with Global News.