Imagine waking up from an accident only to discover you were saved by a prince. No, it's not a Disney movie, but for 37-year-old tree surgeon Jim Schembri, it was real life.
After being knocked unconscious by a tree at work, Schembri woke up as he was being loaded into an East Anglian Air Ambulance in Wisbech, a town in England.
Despite his injuries, Schembri — a former soldier — managed to recall Prince William worked for the helicopter service, and cracked a joke at the royal's expense. "I said Willsy better not be flying this thing," Schembri told ITV News.
To his surprise, the 33-year-old prince responded to him from the pilot's seat and teased "oh, I've been holding your head for the last 30 minutes."
According to Schembri, who suffered from a dislocated shoulder and rib, the Duke of Cambridge even visited him in the trauma room after the accident.
This isn't the first time Prince William has flown to the rescue. In November 2011, the royal rescued two sailors whose cargo ship sank in the Irish Sea.
Both times the prince was praised for his professionalism and smooth flights.
Watch the full video above.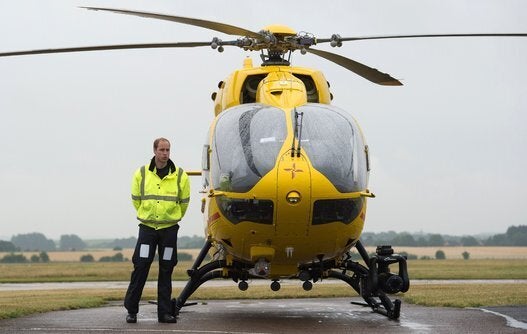 Prince William Starts New Job