OTTAWA — U.S. presidential candidate Ted Cruz has announced he's suspending his election campaign to run for the leadership of the Conservative Party of Canada.
Cruz, the main challenger to Republican frontrunner Donald Trump, said he never thought he would move back to Canada — he was born in Alberta in 1970 — much less get involved in its politics. But he said recent events have made him feel "obligated" to do so.
"Look, I understand this might come as a shock to many Americans and Canadians," Cruz told reporters Friday. "But the truth is, though I have always wanted to help make Canada great again, I have recently started feeling morally obligated, as a Canadian, to run for the Conservative party back home.
"I must save it from Kevin O'Leary."
"I watch Heartland. I know what it takes to be Canadian."
Cruz, who is reportedly not the Zodiac Killer, said an O'Leary leadership would pull the party away from focusing on "the real issues" Canadians genuinely care about.
"All he talks about is the economy and jobs. But I've learned first hand that what wins you the people's vote is not fiscal policy, but vaguely-xenophobic messaging," said Cruz, maybe the Zodiac Killer?
"The Tories might have talked about the niqab a lot during the election, but you can bet a Ted Cruz campaign revolves around it."
Cruz, who had renounced his Canadian citizenship prior to entering the U.S. presidential race, said he is confident he can become a citizen again.
"I watch Heartland. I know what it takes to be Canadian." he said.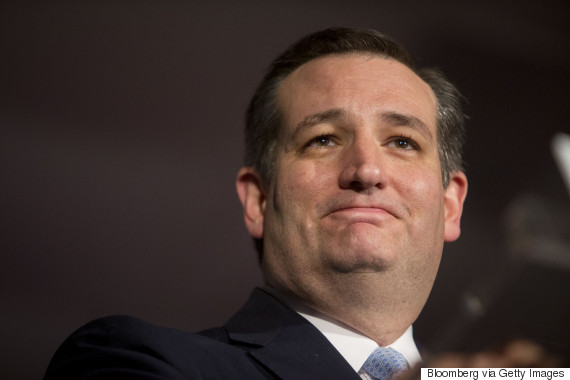 Cruz, who is definitely not an alien pretending to fit in, was born in Alberta in the 1970s. (Getty Images)
O'Leary, a TV personality and businessman who has expressed interest in running for the Tory leadership, had not commented on potentially-the-Zodiac-Killer Cruz's announcement as of press time. Early Friday morning, however, he tweeted, "You come at the king, you best not miss. #money"
Cruz's jump into the Conservative leadership contest, set to take place in May 2017, puts him next to likely contenders Jason Kenney, Tony Clement and Lisa Raitt -- all party veterans. But he says it's O'Leary who is his true opponent.
"I am coming back to Canada because I think Kevin has a strong chance at winning this and he needs to be stopped," said Cruz. "Also, can you guys please stop calling me the Zodiac Killer? I have no idea what that is."
Asked for comment on Cruz's announcement, Interim Conservative Leader Rona Ambrose said in a statement that she was "done with this. Guess the party is on Cruz Control now lol."
|

|

|

|

|

|

|

|

|

|

|

|

|

|

|

|

|

|

|

|

|

|

|

|

|
APRIL FOOLS!
Ted Cruz cruising for CPC leader? Not likely. Or at least, not yet. Weird things have happened to American politics to make this parody piece somewhat, maybe, an teensy bit plausible.
Also On HuffPost:
8 Reasons Ted Cruz Is More Terrifying Than Donald Trump