WASHINGTON — Justin Trudeau was being peppered with questions about the storm clouds gathering above the Canadian economy -- crashing oil prices, a resource slump and federal budget deficits with no end in sight.
Not to worry, the prime minister told an American business audience: other Canadian sectors are doing well, the deficits are manageable and now is the time to be investing in the country's infrastructure.
"I think confident, optimistic countries, like confident, optimistic companies, should always be willing to invest in their future -- to bet on their future," Trudeau told the U.S. Chamber of Commerce during Thursday's question-and-answer session.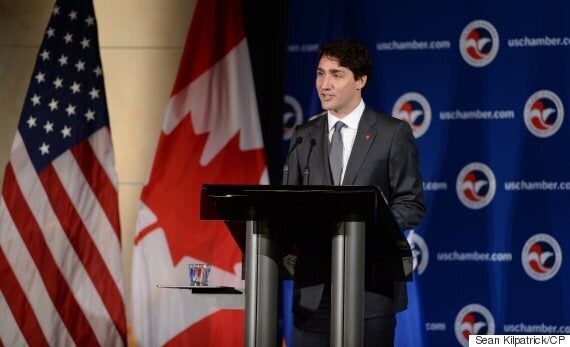 Prime Minister Justin Trudeau delivers remarks prior to taking part in a question and answer session at the United States Chamber of Commerce in Washington, D.C., on Thursday, March 31, 2016. (Photo: Sean Kilpatrick/CP)
"To know that we have brighter days and we should be building for them."
It just so happened that a bright spot was opening right at that moment: Canada's new GDP numbers were showing the biggest month-over-month jump in economic growth in three years.
It was Trudeau's third trip to the U.S. in a month -- this time for a meeting of world leaders on nuclear safety, during which he also spoke to the business group and met with his Japanese and Argentinian counterparts.
He was asked whether he hoped a future U.S. administration would approve a new version of the Keystone XL pipeline, which had become such a sore spot in Canada-U.S. relations in recent years.
"Listen, it's not a government of Canada proposal," he began, before adding: "I've said many times (that) one of the most important jobs of any Canadian prime minister is to make sure we're getting our resources to market.
"But doing that in the 21st century means doing it responsibly, sustainably, ethically, thinking about the long term. We didn't do a very good job over the past decade of highlighting our understanding of environmental and global responsibilities around that."
He was speaking to a group closely aligned with the big-business wing of the Republican party, and which tends to support the party with ads and donations. In the audience were representatives from governments and corporations like Google, Amazon, Ford, Coca-Cola and General Electric.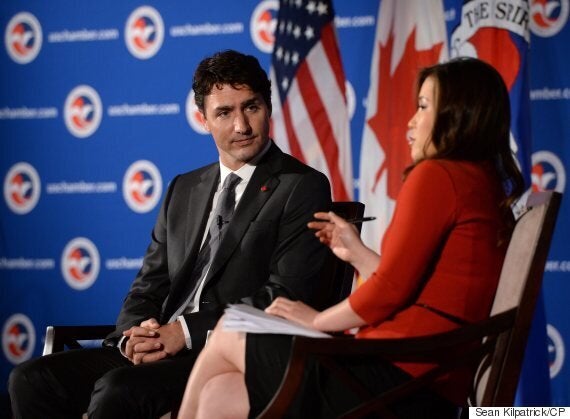 Prime Minister Justin Trudeau is interviewed by Susan Li as he take part in a question and answer session at the United States Chamber of Commerce in Washington, D.C., on Thursday, March 31, 2016. (Photo: Sean Kilpatrick/CP)
In his speech, Trudeau touted his middle-class tax cuts and plans to boost infrastructure spending. He did not mention the deficits -- nor the absence of a time frame to erase them -- until prompted later by the moderator.
The chamber's vice-president, Myron Brilliant, urged the Liberal government to take up another of the group's priorities -- adopting the Trans-Pacific Partnership.
"You laid out a vision we think we can contribute to and support," Brilliant said.
"We do believe that TPP is not a perfect agreement. But we should not let a perfect agreement be the enemy of the good agreement that we have before us. It's so important strategically for the United States, Canada and the other countries that we move forward... We would like to see it go forward."
Trudeau extolled the merits of trade deals generally, but did not commit to passing TPP which he said is undergoing a review in Canada.
He was also asked whether he'd renegotiate NAFTA, a proposal of some presidential candidates including Donald Trump. Once a trade deal is opened up for one thing, other irritants pop up immediately, he replied.
And, of course, he was asked about the Republican front-runner, although not by name. NDP Leader Tom Mulcair has urged Trudeau to denounce Trump, which the prime minister has by and large refused to do.
Trudeau responded the way he always has during his U.S. visits: with a two-step dance.
On the one hand, he made his personal preference clear -- for a positive politics that sees globalization and interactions with foreigners as an opportunity, not just a threat.
But he also suggested that the current anti-establishment anger could eventually produce positive results. He said political elites might draw some lessons from the election, about listening to regular people and spreading economic opportunity.
The audience laughed and clapped when Trudeau repeated his stock phrase: "I have great faith in the American people and look forward to working with whoever gets elected in November."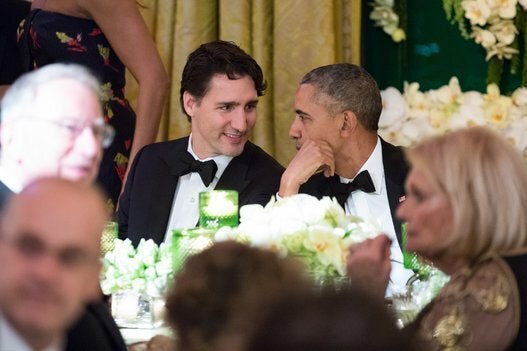 Trudeau's Historic Washington Visit