Vice Media lost a court battle Thursday, and now may have to hand over all correspondence with an Islamic State fighter to the police.
The media company went to court last month, asking a judge to quash a production order served to them by the RCMP in 2015. Vice Media and its reporter, Ben Makuch, were ordered to hand over all notes and records of correspondence with Farah Shirdon, the Calgary man notorious for burning his Canadian passport on YouTube.
"It's not in the public's interest," Vice Media Canada's president Ryan Archibald said of the ruling. "This is a precedent-setting ruling which has great effect on the freedoms of media to operate and protect their sources," he told The Huffington Post Canada.
Vice published multiple articles and a Skype interview with Shirdon in 2014. Canadians at home "shall face the brunt" of jihad, he told Makuch. "If you are in this crusader alliance against Islam and Muslims you shall see your streets filled with blood insha'Allah," he said.
The 22-year-old Shirdon was charged in absentia last September with several offences, including leaving Canada to participate in the activity of a terrorist group, taking part in the activity of a terrorist group, and threatening Canada and the United States.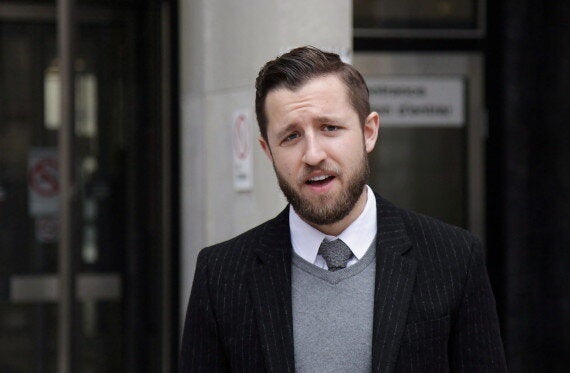 Vice Media reporter Ben Makuch leaves Ontario Superior Court in Toronto on Feb. 29, 2016. RCMP are trying to force Vice to turn over materials related to interviews Makuch did in 2014 with suspected terrorist, Farah Shirdon. (Photo: Colin Perkel/Canadian Press)
Makuch's notes are "vital context evidence" to prove Shirdon's threats were sincere and he's not just "a foolish or mentally unstable individual enjoying the hubris of internet celebrity," the original order said.
Vice argues that everything relevant has already been published. "They have enough evidence to bring him in and put him away, so we're not sure what more these materials would provide," Archibald said. "They're just fishing because they don't know what's in there."
The company hasn't decided yet if it will appeal the decision. Makuch said previously he's prepared to go to jail if it means keeping the information out of the RCMP's hands.
"We stand behind Ben Makuch and we will stand behind every journalist in his position," Vice said in a statement. "The principles at stake are too important."
— with files from the Canadian Press