When Prime Minister Justin Trudeau arrived at the HuffPost Canada offices in Toronto for a global town hall in early March, the last thing we expected him to share with us was a passion for fashion.
But if there's one thing we know for certain about our "strikingly young and wavy-haired" prime minister, he loves a good, crisp, white button-down shirt. On most days, Trudeau tends to leave the top button undone for a more casual, relatable aesthetic. And his signature look isn't complete without those rolled-up sleeves that hit just around the elbows.
After a widely talked-about interview with Vogue (who previously named him as one of the "sexiest men alive"), Trudeau admitted the legendary publication inspired him to pursue his love of design.
So Sophie Grégoire-Trudeau is in Vogue. #cdnpoli https://t.co/qdjj308e1H pic.twitter.com/MW7jYrLcn4

— kdub (@KimWyles11) December 9, 2015
Thus, behold: JT by Justin Trudeau, a collection of pre-rolled white shirts designed by the prime minister himself for the "modern man who wears his feminism on his sleeve."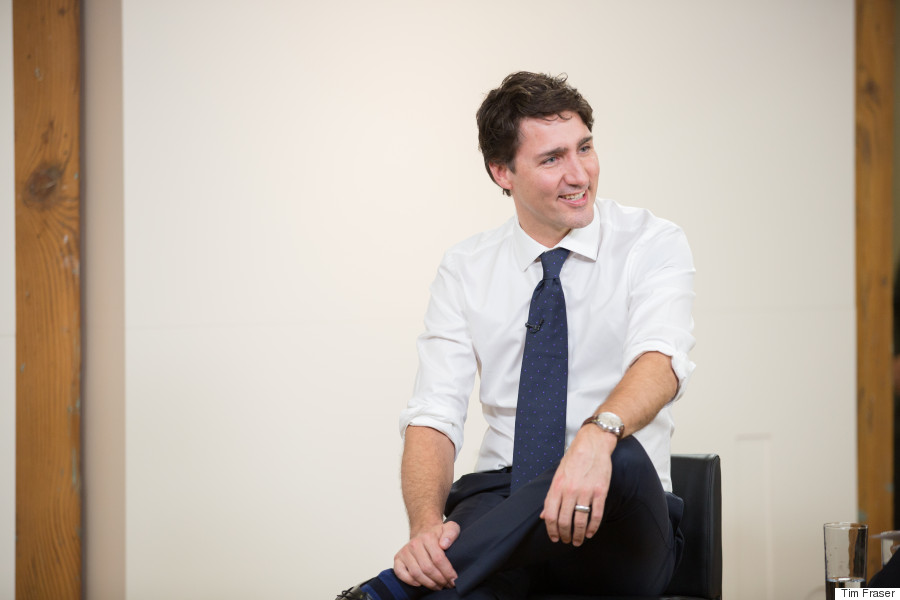 Trudeau wore the first design from the his collection on our global town hall stage. The fitted, structured white shirt is manufactured in Montreal's trendy Mile End and features a fabric handpicked by the PM's wife, Sophie Grégoire Trudeau. The standout feature is the pre-constructed, perfectly rolled sleeves, which Trudeau believes is a symbol of "effectiveness" and "work ethic."
Trudeau expressed a desire to create the collection after seeing Grégoire Trudeau wear numerous garments from an array of Canadian designers for her public appearances. He saw the Canadian fashion market as a way to connect to the style lovers of Canada, and said he "heard Canadians (and Americans) loud and clear" when it came to their admiration for his pre-rolled sleeve:
Justin Trudeau's rolled up sleeves and progressiveness does things to me

— reign af (@feelsykershey) January 28, 2016
Has Justin Trudeau ever rolled his sleeves down?

— Simon (@simyau) October 19, 2015
however, valid reasons to move to canada include: better view of justin trudeau with his sleeves rolled up.

— ജയൻ (@niuzhiyan) March 25, 2016
The father-of-three explained to us the JT by Justin Trudeau pre-rolled shirt collection will "help fashion lovers present their best selves to the world," as the overall look of the brand reflects that of someone who is constantly on-the-go, yet wants to keep things real and remain aware of the world surrounding him or her.
Trudeau wants to make it clear this collection isn't just for men, because, well, it's 2016. As a world leader on a quest to declare himself a feminist until "there's no more reaction," the prime minister has crafted these unisex shirts in a wide range of sizes to prove women and men are equals when it comes to all sectors of life, including fashion.
All proceeds from the JT by Justin Trudeau line will be donated to the Toronto Zoo and panda bears Jia Panpan and Jia Yueyue. Trudeau, who wore his first pre-rolled shirt from the collection when he played with the furry animals just hours before the HuffPost Canada, said he felt "a real connection with the adorable creatures."
It is rumoured that Trudeau will expand the collection with a range with unisex handbags. He brought the rumoured item to Washington, where he is currently taking part in the United States Chamber of Commerce.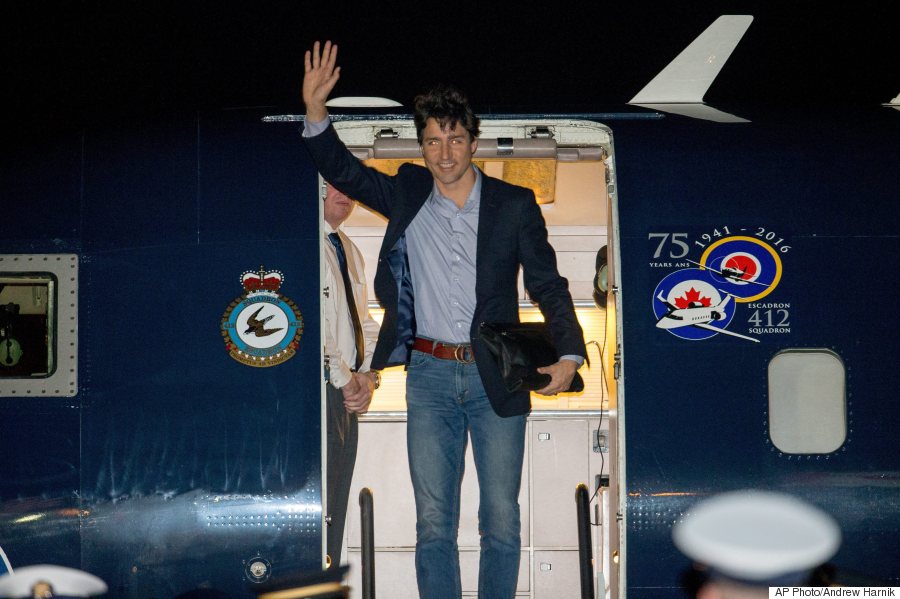 The collection, which only includes the 'Sunny Ways' design thus far, can be purchased online for $99 at Hudson's Bay.
We can't wait to see where Justin Trudeau takes his fashion brand next!
|
|
|
|
|
|
|
|
|
|
|
|
|
|
|
|
|
|
|
|
|
|
|
|
|
|
|
|
|
|
|
|
|
|
|
|
|
|
HAPPY APRIL FOOL'S DAY!
Pre-rolled sleeves, though? Genius.
Follow Huffington Post Canada Style on Pinterest, Facebook and Twitter!
Also on HuffPost