CALGARY — He won the most Juno awards but there was no sign of superstar the Weeknd at Saturday night's celebration of the Canadian music industry.
It was hard to ignore the absence of the R&B singer, whose real name is Abel Tesfaye, at the gala dinner where he grabbed three trophies for "Beauty Behind the Madness."
Each time he won someone else accepted the award on his behalf.
That became a common theme at the non-televised gala ceremony — which streamed online — as other megastars secured their own Junos but didn't show up to take them home.
Justin Bieber grabbed pop album of the year for "Purpose" and Drake won rap recording of the year for "If You're Reading This It's Too Late."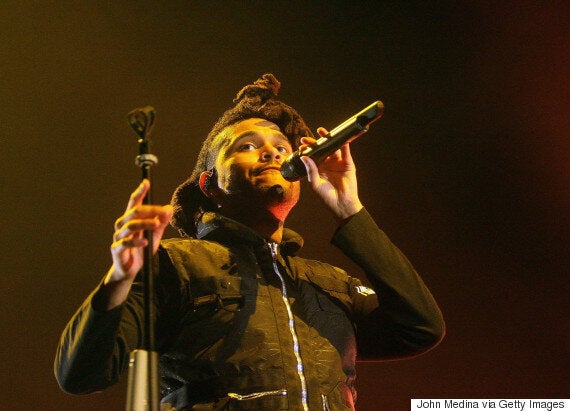 The Weeknd won the most Juno awards but he wasn't there to accept them. (Photo: Getty Images)
Neither attended the ceremony at the Calgary Telus Convention Centre where most of the 42 Juno awards were handed out.
At least the Weeknd is scheduled to show his face on Sunday night's televised broadcast where he is also scheduled to perform. He's also up for three more awards.
Juno producers found some humour in the absence of U.K. songstress Adele who extended her streak of success by winning international album of the year for "25."
After her win was announced the Junos ran a clip of her Brit Awards acceptance speech with a Juno hastily pasted over top of the trophy.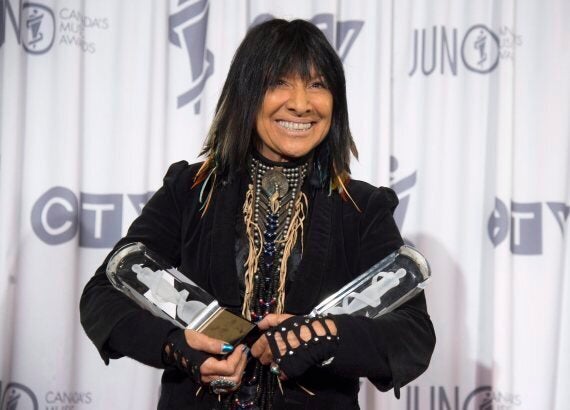 Buffy Sainte-Marie holds her awards at the JUNO Gala dinner in Calgary. (Photo: CP)
Music video of the year went to Quebec director Xavier Dolan for Adele's "Hello," who also wasn't in attendance.
The lack of global starpower gave some other homegrown talent a greater opportunity to celebrate their wins.
Cree singer/songwriter Buffy Sainte-Marie's latest album "Power in the Blood" claimed two awards for aboriginal album and contemporary roots album of the year.
Death from Above 1979 snagged rock album of the year for "The Physical World," the band's first studio album in a decade after breaking up for several years.
Sebastien Grainger, one half of the duo, says returning to work on another album was different this time around.
"I think we felt a little bit more empowered to make the music we wanted to make on this record," he said.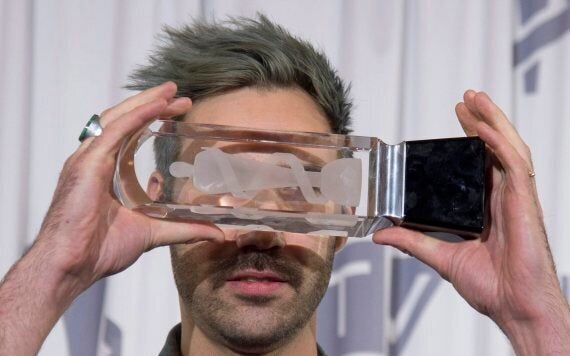 Death from Above 1979 band member Sebastien Grainger plays with his Juno for Rock Album of the Year at the JUNO Gala dinner in Calgary. (Photo: CP)
"Canada's Smartest Person" host Jessi Cruickshank served as the evening's emcee, tearing through the show with a flurry of off-colour jokes and jibes at celebrities.
She touched on everything from the Jian Ghomeshi verdict ("A huge step forward for sexual assault.") to 17-year-old pop singer Shawn Mendes' numerous tweets about puberty ("Shawn is yelling at me, he's calling me creepy.").
She also chided the Junos over the lack of female nominees in this year's marquee artist categories.
"On the plus side that means 80 per cent of all the losers will be male, and that, my friends is progress," she said.
Follow @dfriend on Twitter.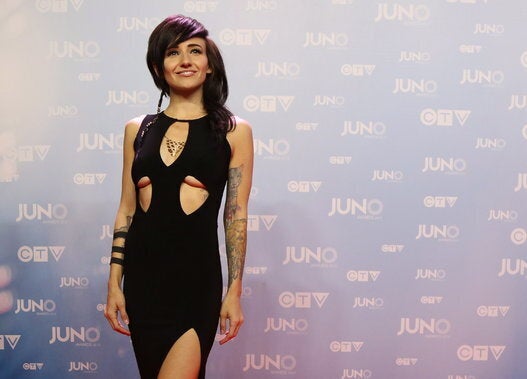 Juno Awards 2015 Red Carpet