This girl's got moves.
Six-year-old Ana Malaniuk has Down syndrome. She can also tear up the dance floor.
Unfortunately, the Edmonton girl has had a tough time showcasing her talent.
Ana's mom, Sonja Malaniuk, says she was turned away from a local dance studio because she wasn't up to "their standards," according to Global News.
Finally, they found Amanda's Academy of Dance, a studio that was happy to accept the young performer.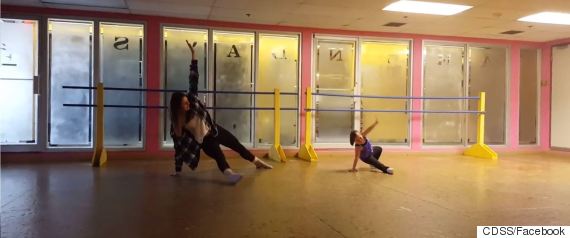 Ana and her dance teacher strike a pose. (Photo: CDSS/Facebook)
During a recent practice, Sonja captured Ana practicing her favourite hip-hop routine — a mashup of "I Wanna Dance With Somebody" and "Shut Up and Dance" — on video.
She shared it with the Canadian Down Syndrome Society (CDSS), who posted it to Facebook last month. Since then, the clip has been viewed nearly 10,000 times.
"Glad I was able to record it and share it with everyone. This studio has been amazing to Ana," the mother wrote on Facebook.
The organization promoted the video as part of its Dance On campaign for World Down Syndrome Day. CDSS encouraged people to share videos of their inclusive and supportive communities using the hashtag #SeeTheAbility.
Calgary Mayor Naheed Nenshi also showed off his dance moves in a CDSS video, but Ana's skills just might have him beat (sorry, Nenshi.)
Watch Ana perform her routine above.
Like Us On Facebook

Follow Us On Twitter
Also on HuffPost:
Ballet Dancers Changing the Landscape