Six more senators have paid back money they owed from filing "questionable" or ineligible expenses, yet some $660,000 is still outstanding — and the Senate could soon take legal action to collect the remaining funds.
"The deadline for repayment or to make arrangements for repayment is April 22, 2016. The Senate has every expectation that each senator will reimburse or make arrangements for the money owing by that time," a Senate spokesperson told CBC News Monday.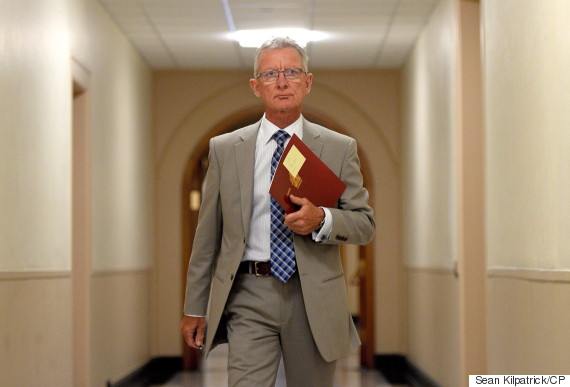 Senator Pierre-Hugues Boisvenu arrives to an in-camera Senate hearing on Parliament Hill in Ottawa on July 28, 2014. (Photo: Sean Kilpatrick/CP)
"However, if they fail to do so, the Senate will be left with no choice but to take the appropriate action at that time, including setting-off of wages or legal action," the spokesperson said.
Recently Ian Binnie, a retired Supreme Court justice, substantially reduced the amount 10 of the 14 senators need to repay. Only those who opted for his binding arbitration process have been able to lower the amounts initially identified by the auditor general.
Six of the 14 senators, including Joseph A. Day, Terry Mercer, Pana Merchant, Lowell Murray, Robert Peterson and Donald Plett, have now reduced the amount they owe to zero, two weeks after the release of the Binnie report.
The other eight who availed themselves to the secondary review have not repaid their entire outstanding balance, including Pierre-Hugues Boisvenu, Jean-Guy Dagenais, Colin Kenny, Sandra Lovelace Nicholas, Dennis Glen Patterson, Nick Sibbeston, Terry Stratton and David Tkachuk.
Other senators — including some who are now retired, and those who did not opt for the Binnie arbitration — still owe hundreds of thousands of dollars. Former Senators Marie Charette-Poulin of Ontario, Rose-Marie Losier-Cool of New Brunswick and Rod Zimmer of Manitoba each owe in excess of $100,000, none of which has been repaid.
The figures are current as of March 31, 2016, according to the Senate.
Michael Ferguson, Canada's auditor general, released his report on Senate expenses last June, which flagged nine senators whose files he believed warranted an RCMP investigation and another 21 whose expenses were deemed questionable but not criminal. 
The Mounties ultimately reviewed the expenses of all 30 of the senators, although few are expected to face criminal charges.
In all, 15 of the 30 senators identified by Ferguson have repaid all of the money they were said to owe.
Also on HuffPost
Trudeau's 7 New Senate Appointments