Two pups are fighting for recovery after being shot with with arrows and left for dead.
The pair, who are both just under one year old, were surrendered to a small, Calgary rescue shelter, after they were spotted wandering around Kananaskis Country "frightened and in severe pain," according to CBC News.
Kelly Cerato, president of the Tails Of The Misunderstood Canine Rescue Society wrote in a Facebook post the circumstances were "so inhumane, that it rips our stomachs and knots our throats."
"They were hurt and almost killed by humans yet, when they see our faces, they wag their tails and gave me kisses," she wrote.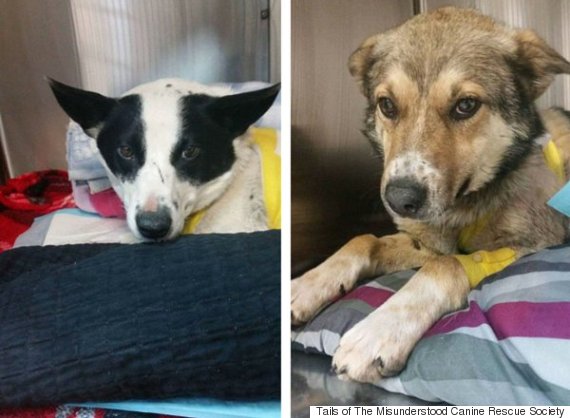 Cheveyo, left, and Kitchi, right, both required surgery after being shot with arrows. (Photo: Tails Of The Misunderstood Canine Rescue Society)
The canines were shot with large, fixed-blade arrows.
Kitchi had a leg amputated at Calgary's McKnight 24 Hour Veterinary Hospital and Cheveyo was operated on by a specialist, as the arrow was precariously close to vital organs, according to a Facebook post.
Cerato posted on social media that the RCMP currently has an open investigation into the incident.
The archer, if found, could potentially face charges under both Alberta's Animal Protection Act and the Criminal Code of Canada.
The Huffington Post Alberta has reached out to the RCMP for comment.
Kitchi is learning how to walk with three legs. Article continues below.
The bill for the dogs' surgeries came to between $5,000 to $6,000 — much less than it should have been — thanks to the veterinary hospital's generosity, the National Post reported.
The group is looking for donations to cover the cost of the dogs' care until they can be put up for adoption.
Like Us On Facebook

Follow Us On Twitter
Also on HuffPost:
Fraser The Dog Rescued After Exhausting Hike