TORONTO — Progressive Conservative Leader Patrick Brown says former Toronto city councillor Doug Ford is "perfectly entitled" to run for the party's nomination in an upcoming byelection. Liberal Bas Balkissoon recently resigned his Scarborough-Rouge River seat in east-end Toronto, which means a byelection will be called in the coming months.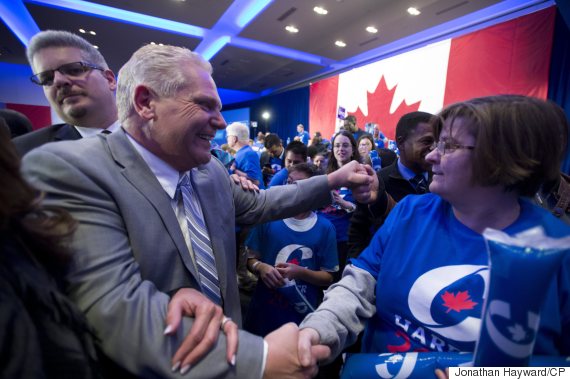 Former Toronto city councillor Doug Ford greets Conservative Party supporters at a rally in Toronto on Saturday, Oct. 17, 2015. (Photo: Jonathan Hayward/CP)
Ford, the brother of the late former Toronto mayor Rob Ford, is meeting with a Progressive Conservative MPP today, amid speculation he's considering seeking the Tory nomination in that race. Brown says he's surprised by the speculation, as Doug Ford has previously only expressed an interest running in Etobicoke, the west-end neighbourhood where the Ford family has a lot of support. Brown says there will be an open nomination to choose a Progressive Conservative candidate and about 10 or 15 people have already expressed interest. Last year, Ford endorsed Christine Elliott in the Progressive Conservative leadership race — which he had also at one point considered joining.
ALSO: Doug Ford May Have Revealed The Secret To His Brother Rob's Success
Also on HuffPost