TORONTO — Premier Kathleen Wynne is cancelling her future fundraising events and calling on the Opposition to do the same. Her call comes one week after Ontario's Liberals raised $2.5 million at a Toronto dinner.  The Progressive Conservatives went on the attack again over fundraising quotas of up to $500,000 each for Liberal cabinet ministers, accusing them of selling access to lobbyists who want government business.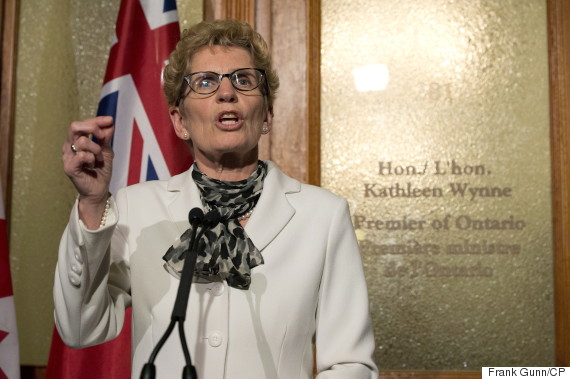 Ontario Premier Kathleen Wynne speaks to the media at the Ontario Legislature in Toronto on Friday May 2, 2014. (Photo: Frank Gunn/CP)
Wynne surprised the legislature by saying she would immediately cancel her private fundraisers that are already scheduled to "lead by example," and asked her cabinet ministers to do the same. Deputy premier Deb Matthews then asked Opposition Leader Patrick Brown if he would cancel planned fundraisers that he has scheduled. But Brown told the legislature he's not the one giving out government contracts. NDP Leader Andrea Horwath again pressed Wynne to have Ontario's chief electoral officers lead the review of political fundraising rules. Wynne promises to introduce legislation this spring to ban corporate and union donations and impose new limits on personal contributions to political parties, but warns there will be a transition period.
ALSO ON HUFFPOST:
Ontario Sunshine List: Key Names