Rick Eglinton via Getty Images
More Canadians are warming up to the idea of carbon pricing as way to reduce emissions — but that growing public support comes with a catch, according to a new poll.
An Abacus Data survey released Wednesday suggests most Canadians are now open-minded to the idea of making polluters pay.
Seventy-five per cent of respondents called carbon pricing an acceptable idea; whereas 24 per cent labelled it a "poor" or "very poor" idea.
"Many Canadians want to see governments take more steps to reduce carbon emissions and the tendency is to think that carbon pricing can be a useful part of the policy mix," Abacus chairman Bruce Anderson said in a release.
Regionally, Quebecers are the most enthusiastic about the idea of taxing polluters. And among Albertans surveyed, a notable 63 per cent said they consider the idea acceptable or good.
Anderson said support is coming from all sides of the political spectrum. Not surprisingly, the strongest approvals came from those who identified themselves as leaning left or left-of-centre.
Regional and political breakdown of where support is for a carbon pricing system. (Graph: Abacus Data)
When it comes to the question of what governments should do with carbon revenues, support is strongest for measures directly related to reducing greenhouse gas emissions.
Approximately 90 per cent of respondents said they want to see carbon-tax cash flow into funding for research and development of clean technology, as well as into infrastructure projects.
Eighty-one per cent of those surveyed said they like the idea of lowering taxes by an amount equal to the rate raised.
"Ideas like tax neutrality and revenue recycling helps build support for carbon pricing," Anderson said.
Support for possible ways to recycle carbon tax revenues. (Graph: Abacus Data)
Despite carbon pricing being seemingly ubiquitous in news coverage of Canada's yet-to-be-determined climate policy, the topic is still just breaking into the mainstream.
Anderson notes many Canadians only have cursory knowledge of how carbon pricing works and how it would affect their personal lives, let alone its impact on the overall economy.
Forty-one per cent of respondents said they "have heard about it but don't really understand it."
Customized revenue-recycling
The Abacus poll was released the same day Canada's Ecofiscal Commission published its report examining the costs and benefits of a shortlist of ways in which provincial governments can recycle carbon revenues.
The report, titled "Choose Wisely," notes "there isn't a single right answer" with how governments should use carbon revenues since needs and interests vary provincially.
For example, according to the Ecofiscal Commission, recycling revenues into household transfers are a higher priority in Alberta and Nova Scotia — but it ranks as a moderate option in British Columbia.
And in Quebec, a province continually plagued by its crumbling infrastructure, the use of carbon revenues to repair rail networks, roads and bridges is higher than all other provinces.
Last month, Prime Minister Justin Trudeau met with provincial premiers to lay groundwork in drafting a national climate policy.
"The transition to a low-carbon economy will happen by a broad suite of measures, which will include pricing carbon," he said after the conclusion of the First Ministers Meeting in Vancouver. "That is something that we've all committed to."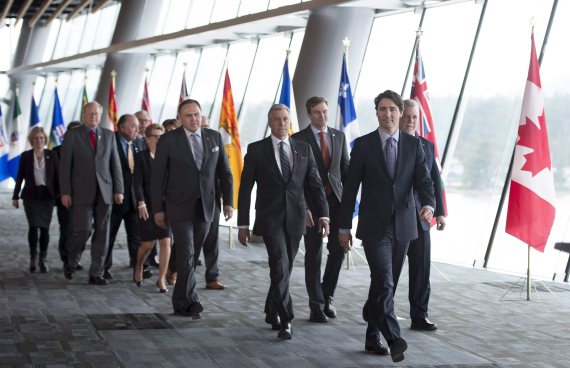 Prime Minister Justin Trudeau leads Canada's premiers to a news conference during the First Ministers Meeting on March 3, 2016. (Photo: Jonathan Hayward/Canadian Press)
Provincial policies on collecting taxes on carbon varies across the country.
B.C. implemented its carbon tax in 2008 and offset revenues by cutting personal income and corporate taxes. In energy-rich Alberta, the government will begin collecting tax on emissions beginning in 2017 — although the measure may be temporary.
In Saskatchewan, re-elected Premier Brad Wall has repeatedly voiced his opposition against a carbon tax. And in Ontario is following Quebec's lead on a cap-and-trade system.
During the election, the Liberals campaigned on a pledge to implement a national carbon price. It's something the federal government has hinted that they'll go ahead on even if provinces are unable to reach a consensus.
Abacus polled Canadians on two different occasions. The first poll was conducted among 2,200 Canadians between Sept. 25 to 29, 2015. Abacus' sample has a margin of error of 2.1 percentage points, 19 times out of 20.
A second poll was conducted last month to examine if Canadians' sentiments about carbon pricing changed. That follow-up poll was conducted among 1,500 adults between March 16 to 18.
Also on HuffPost:
Countries Facing Greatest Climate Change Risks