It is "totally incomprehensible" that Justice Minister Jody Wilson-Raybould is going forward with a controversial private fundraiser, says a former federal Liberal cabinet minister.
Ujjal Dosanjh, who served as health minister under former prime minister Paul Martin, went public with his views in a blog post Tuesday amid reports about the planned reception at a major Toronto law firm's office.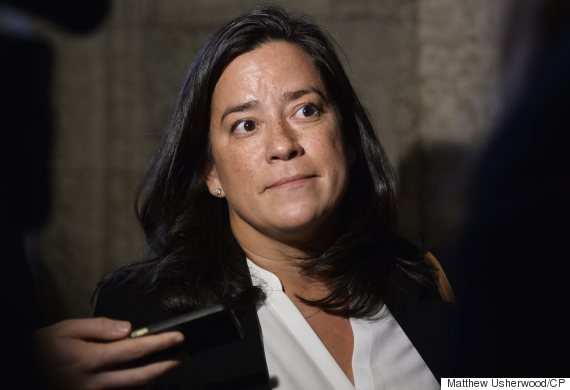 Justice Minister Jody Wilson-Raybould scrums with media in Ottawa in February. (Photo: Matthew Usherwood/Canadian Press)
Wilson-Raybould, who also serves as Canada's attorney general, will be the main draw at a two-hour, $500-a-head event Thursday at the office of Torys LLP, an international firm with locations across Canada. Proceeds from the fundraiser will go to the Liberal Party.
The Liberals' provincial cousins have faced criticism in recent weeks about their own private fundraisers, which rivals claim give the rich special access to lawmakers.
On Tuesday, Ontario Premier Kathleen Wynne announced that she was cancelling all future fundraisers — about a week after her party raked in more than $2.5 million at a Toronto dinner. Her government will also bring in new fundraising rules this spring.
It is in that context that Dosanjh is now urging Wilson-Raybould to cancel the event.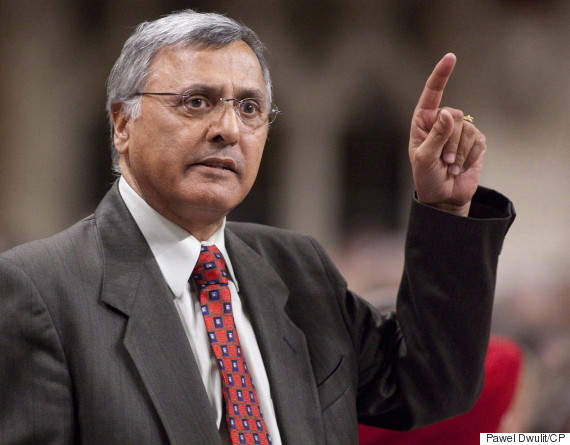 Former Liberal MP Ujjal Dosanjh gestures as he stands in the House of Commons during question period on April 20, 2010. (Photo: Pawel Dwulit/Canadian Press)
"In the days when the influence of big private money is being debated everywhere – from the Panama Papers to the current US presidential campaign to Queens Park in Ontario – it is totally incomprehensible to me how a Minister of our Federal Crown, the Minister of Justice and the Attorney General at that, participating in a private fund raiser with lawyers can be said to escape either the reality or the appearance of a conflict of interest," he wrote.
He also said that if the current laws allow the minister of justice to be in "at least the appearance" of a conflict, they must be changed.
Read the full blog
Dosanjh, a former premier of British Columbia, also suggested the event is a particularly bad idea for Wilson-Raybould in light of the role she plays in government.
"It is for the sake of preserving not just her own independence and integrity but also the integrity of her office that minister Wilson-Raybould should seriously reconsider her position."
"An Attorney General is not just any minister. She is the Attorney General of Canada and in (a) significant number of her functions she must remain and be seen to remain independent of the office of the Prime Minister," he wrote.
"It is for the sake of preserving not just her own independence and integrity but also the integrity of her office that minister Wilson-Raybould should seriously reconsider her position."
Conservatives want watchdog to investigate
Perhaps unsurprisingly, Conservatives agree. Ontario Tory MP John Brassard told Global News he wants Ethics Commissioner Mary Dawson to take a look at the event.
"You've got an attorney general, the minister of justice, one of the top lawyers in the country, at a fundraising event with a law firm that has offices from coast to coast, that represents stakeholders that deal directly with the government, asking $500 per ticket to attend this fundraiser," he said.
But Torys partner Mitch Frazer told CTV News he organized the event on his own because he supports Prime Minister Justin Trudeau and went to "deliberate lengths to make sure our firm is not connected to this."
Trudeau says rules are 'clear'
Asked about this situation in Montreal on Wednesday, Trudeau pointed to the "very clear rules" at the federal level that disallow parties from taking money from unions and corporations. In addition to those strict limits, the political donation laws demand "transparency," he said. All donations of more than $200 are publicly reported each quarter.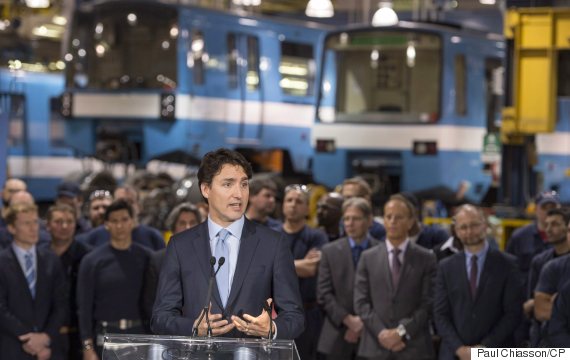 Prime Minister Justin Trudeau addresses the workers and media as he tours a garage of the Montreal Transportation Commission, Wednesday, April 6, 2016 in Montreal. (Photo: Paul Chiasson/CP)
"The Liberal Party, under my leadership, has always shown openness and transparency and has been very clear about what we're doing in terms of funding and in every area of our operations," he said in French.
Trudeau also said he agreed with Wynne's decision to cancel private fundraisers, adding that a "number of provinces have work to do" on tightening donation rules and should consider banning union and corporate contributions, as has been done at the federal level.
A Liberal spokesperson told The Huffington Post Canada in an emailthat Wilson-Raybould takes her "ethical obligations very seriously" and contacted the ethics commissioner in advance to make sure there was no conflict.
Also on HuffPost:
How Much Are Federal Politicians Making? (2016)