A Quebec Superior Court judge has granted the fast-food chain Pizza Pizza permission to open a restaurant fewer than 100 metres from a high school in Brossard, despite efforts by the Montreal South Shore suburb to block the move.
It's the first time zoning regulations for fast-food outlets near schools have been the subject of a legal challenge.
The case was followed closely by several Quebec municipalities, including Laval, that are also seeking to limit students' easy access to junk food.
Last July, Brossard issued a notice of motion to ban fast-food restaurants in front of Antoine-Brossard High School on Rome Boulevard.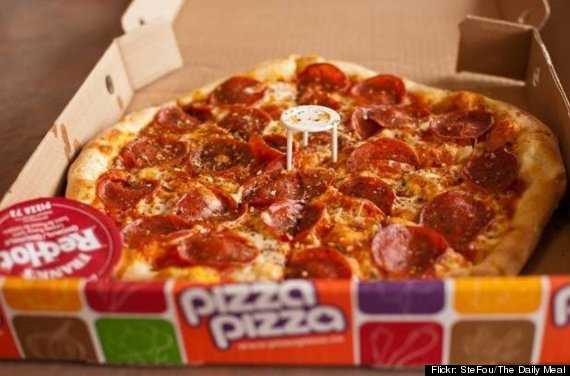 Pizza Pizza will open a restaurant across from a Brossard high school. (Photo: Flickr)
But Pizza Pizza had applied for a permit before the bylaw was adopted, to set up shop in a building that housed a Subway sandwich shop until last March.
In a decision handed down on Feb. 18, Justice Kirkland Casgrain found that the notice of motion wasn't sufficiently precise. Pizza Pizza had already signed a lease at the location when the bylaw was adopted.
City encouraging healthy lifestyles 
Alexandre Plante, the Brossard city councillor in charge of the city's healthy lifestyle initiatives, told CBC he's "very disappointed" with the ruling.
He said the zoning change is part of a broader attempt to encourage healthy living, and he stressed that the bylaw will apply to new restaurants. 
A legal representative for Pizza Pizza said the company was satisfied with the decision and would proceed with opening the restaurant.
Also On HuffPost:
What Dietitians Would Eat At Pizza Pizza