Jason Franson/CP
The Edmonton Oilers will bid farewell to Rexall Place with a final game on Wednesday after calling the arena home for the past 42 years.
The rink — initially called the Northland Coliseum, then the Skyreach Centre, and Edmonton Coliseum — has been home to incredible memories for Albertans over the decades.
The second-oldest arena in the NHL will be starting a new life soon — a proposal for its use is still up in the air — but for now, fans are celebrating and mourning the end of an era.
(Story continues below)
The venue has witnessed NHL history, from the first opening game with a sold-out arena on Nov. 10, 1974, to the crowd's roar when a 20-year-old Wayne Gretzky scored a record 50 goals in 39 games on Dec. 30, 1981.
The arena hosted Edmonton's first Stanley Cup win in 1984, which kicked off a legendary dynasty.
Fans took to a Facebook forum to share some of their favourite memories.
"I was at the game when Gretzky scored five goals against Philadelphia to hit 50 goals in 39 games. With about five minutes and only one more goal to go to hit 50 everyone was on the edge of their seats. A woman sitting behind me said 'He'll probably score with something like three seconds left,' which he did. Everyone turned to her and said 'How did you know?'" wrote Lyle Garford.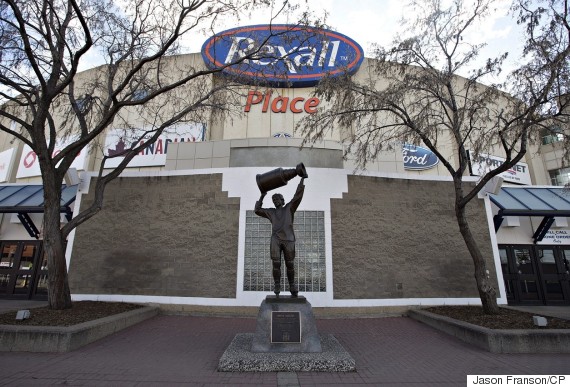 Wayne Gretzky's statue stands in front of Rexall Place. (Photo: Jason Franson/CP)
"Not only did I attend many Oiler games, I also showed horses and competed in Miss Rodeo Canada pageant in that building... nothing like looking up in the rafters to see all of those retired jerseys too," wrote Elizabeth Anne Hennessy.
Even the Calgary Flames joined in to share a memory on Twitter, albeit one they noted "Oilers fans would like to forget."
Another memorable #BattleOfAlberta moment at Northlands Coliseum ... Maybe one #Oilers fans would like to forget.https://t.co/YBrplOQRIj

— Calgary Flames (@NHLFlames) April 2, 2016
On Wednesday, the City of Edmonton held a public celebration with over 100 former and current Oilers and staff in attendance.
Rexall Place was "one of the best places to play hockey in the world," recalled Edmonton Mayor Don Iveson at the event, which brought out thousands of people clad in orange and blue.
Amazing @EdmontonOilers fans! pic.twitter.com/FjmbutV8Aw

— Georges Laraque (@GeorgesLaraque) April 6, 2016
The Oilers will begin the 2016-2017 season in October in their shiny new home at Rogers Place.
If fans want one last chance to say goodbye to the ol' arena after Wednesday's game, the rink will be open for public skating on April 11.
With files from The Canadian Press