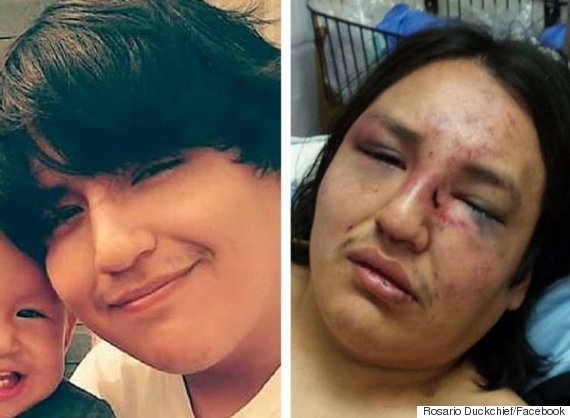 An Alberta First Nations man may require facial reconstruction after allegedly being battered by the RCMP.
Christian Duckchief was sleeping in his Siksika First Nation home, just outside of Calgary, when members of the Gleichen RCMP detachment hauled him out of bed early morning on April 1, according to the Aboriginal Multi-Media Society (AMMS).
Duckchief initially resisted arrest, AMMS reported. Having just woken up, the 23-year-old said he didn't realize he was being grabbed by police.
However, he and partner, Chantel Stonechild, allege an RCMP officer continued to beat him even after he stopped struggling.
"He heard somebody say 'stop resisting arrest' and at the point that he became aware of the fact that it was police, he said 'I'm sorry, I'm sorry, I'm not resisting' and stopped resisting," Stonechild told the Calgary Sun.
"They just kept hitting him."
His children were at home during the incident, Duckchief's father, Rosario, wrote on Facebook.
"He will now need facial reconstruction due to the placement of the breaks in his skull, and may lose vision in his eye as a result of the beating he received at the hands of uniformed officers," Duckchief's father wrote.
"Unfortunately, even though there are good cops out there, they apparently weren't on shift when this happened to my son."
RCMP told CBC News they could not comment on the case because it is under investigation.
Duckchief is charged with assault, resisting arrest and breaching conditions, Global News reported.
The family has started a GoFundMe to cover health and legal costs for Duckchief.
Like Us On Facebook

Follow Us On Twitter
Also on HuffPost:
Aboriginal Concerns In Canada