TORONTO — The Progressive Conservatives are demanding Ontario call a commission of inquiry into the fundraising practices of the Liberal government, similar to Quebec's Charbonneau commission. PC Leader Patrick Brown says Premier Kathleen Wynne's promise to change Ontario's political financing rules "does not fix the years of shady (fundraising) quotas and tainted money" raised by Liberal cabinet ministers.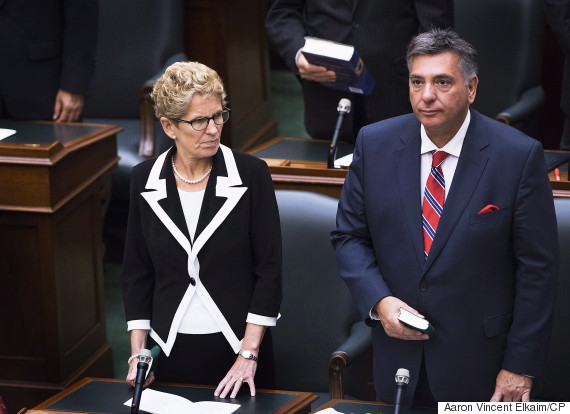 Ontario Premier Kathleen Wynne is shown beside Finance Minister Charles Sousa at Queen's Park in Toronto on Wednesday, July 2, 2014. (Photo: Aaron Vincent Elkaim/CP)
Brown says people need to know if government contracts and grants were traded for donations to the Ontario Liberal Party. He asked Wynne for a yes or no answer on whether she'd heed his calls, but she ignored the question and instead said that Liberal ministers would no longer solicit funds from companies in their sector.
NDP filing complaint
The New Democrats said they're filing a complaint today with Ontario's Integrity Commissioner over the fact Liberal cabinet ministers had fundraising quotas of up to $500,000 each. "The ministers of energy and finance appear to be the direct beneficiaries of the decisions they made in respect to (the sale of) Hydro One, both in terms of raising money to meet the 'quota' set by the premier and the Ontario Liberal Party, and thus to them as candidates for that party," deputy NDP Leader Jagmeet Singh wrote in his affidavit to the Integrity Commissioner. Justice France Charbonneau led an inquiry into Quebec's construction industry, which found widespread corruption and collusion in the granting of government contracts. A former Quebec deputy premier was one of seven people arrested by the province's anti-corruption squad last month after allegations that political financing and gifts were exchanged for lucrative government contracts.
ALSO ON HUFFPOST:
Ontario Sunshine List: Key Names