Dubbed the "Vincent van Gogh of eye makeup" by The Creators Project, Ryland uses her eyes as her canvas to create renditions of legendary paintings and other original designs in an intricate series she likes to call #MakeupForAnts.
Perfecting her winged eyeliner (which is an art in itself, let's be real), the award-winning makeup artist crafts visuals from a selected, well-known paintings on her eyelid — including Hokusai's "The Great Wave Off Kanagawa" and van Gogh's "Starry Night."
In a Reddit thread, Ryland shares an image of her work with the caption "I do makeup for ants." The photo, which shows little cats painted along the makeup artists' lash line (cat's eye liner, get it?), had one user commenting, "I'm sorry, I struggle to get the wings on my eyeliner at the same angle, how are you painting tiny cats on your eyelids?"
When one user asked how long it takes on average for the Australian to do each look, she responded, "Depends on the level of detail and if I have a time restriction. Usually 45-60mins from start to finish but the take-out food one only took 20-30min because I had work straight after." (NBD.)
And while the artist may be taking off with her #MakeupForAnts series, she isn't limited to just the eyes. Georgina has also mastered her makeup art on her lips and body.
Meanwhile, we'll just be here trying to figure out how to line our lips properly. You can check out more of Georgina Ryland's work on her Instagram, @georginaryland.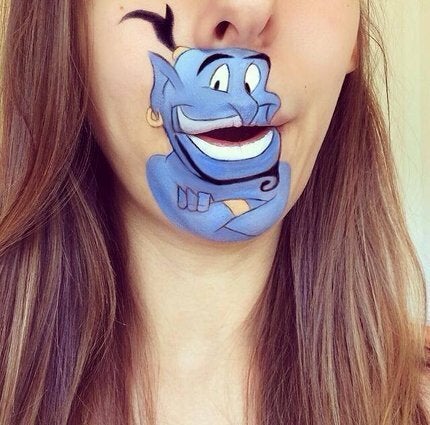 Makeup Artist Laura Jenkinson