As sure as there will be snow in the winter and music festivals in the summer, there will be a fashion brand crossing the culturally inappropriate line with its products.
Free People is under fire for its recently-launched Festival Shop, which features several items that critics say appropriate indigenous culture.
Products listed include garments and accessories that are specific to indigenous peoples, including $111 "medicine pouches", $96 rain sticks, $68 beaded chokers, $182 "spirit animals" essential oils, $353 feathered headdresses and $280 ear cuffs.
@FreePeople Your 'festival apparel' is really weirding me out. Especially this "tribal-inspiredheadpiece" pic.twitter.com/x9gnym7jOL

— Samantha L. Dawson (@samleedawson) March 28, 2016
People on social media were quick to call out the controversy of these items, as well as the fact that the models donning them were mostly blond and white.
One user tweeted: "Damn, Free People, back at it again with the Native American-inspired 'festival' clothes" along with screenshots of other users lamenting the store's issues with cultural appropriation in the past.
Damn, free people, Back at It again with the native American-Inspired "Festival" clothes #BlackGirlsRock pic.twitter.com/PhjiiwwTd7

— Traynesha Cole (@TrayneshaCole) April 9, 2016
The brand is owned by Urban Outfitters Inc. (URBN), which Buzzfeed reported is currently embroiled in a lawsuit put forth by the Navajo Nation in 2012.
Just got new @FreePeople catalog. Not a single POC in the whole thing. Plenty of appropriation of #Indigenous culture though.

— Joe Gilbert (@gugliacci) April 6, 2016
I have not tweeted in forever, but Free People is out of control with their "festival shop" cultural appropriation much?!?!

— Wild Flower (@Bossy_NoKelis) March 23, 2016
Bohemian-inspired clothing has long featured flowing, fringed, feathered and beaded garments that appear inspired by indigenous clothing. But the inspiration toes the line of cultural appropriation when spiritual symbols wind up being copied without fully understanding the history and meanings of the items.
An indigenous headdress for example, is earned through acts of leadership and selflessness, journalist Simon Moya-Smith tells MTV News. And a medicine bag is used to hold items that the owner considers intrinsic to their spirit.
In the last two years, several music festivals have actually banned Native headdresses from their grounds, including British Columbia's Bass Coast Festival Montreal's Osheaga, Winnipeg and Edmonton's Folk Festivals, and the U.K.'s Glastonbury Festival
Free People joins a slew of other brands, including Givenchy and Valentino, that have had problems with appropriation and misusing cultural symbols and designs.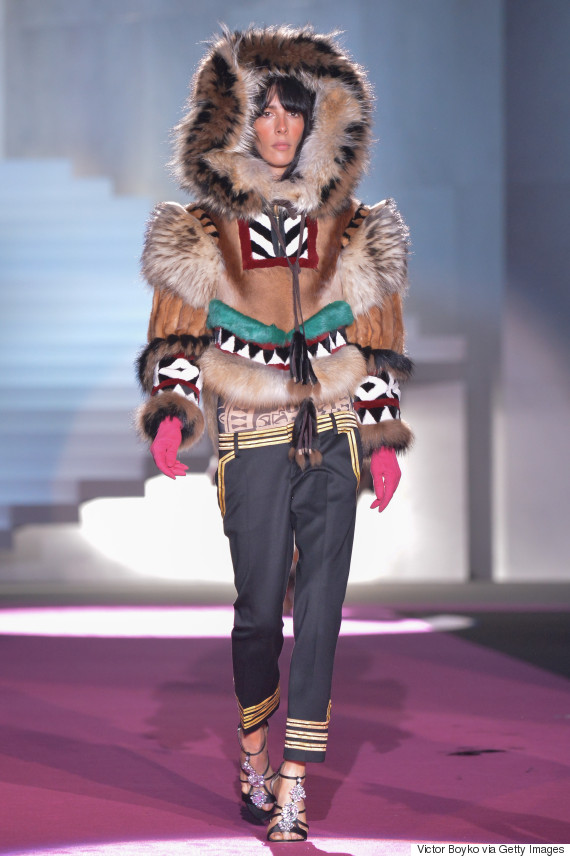 A model walks the runway wearing the controversial line .dsquaw by Canadian brand DSquared2 for Milan Fashion Week on March 2, 2015.
Last year, Canadian designer label DSquared2 received widespread backlash for its line ".dsquaw". Although the designers say they meant to celebrate Canada's indigenous communities, the collection was criticized for ripping off indigenous designs, failing to feature indigenous models and using the term "squaw" which is a derogatory term for an indigenous woman. The twins behind the brand, Dean and Dan Caten, later apologized for the "hurt" and "disrespect" they may have caused in an open letter.
HuffPost Canada Style has reached out to Free People's owner, Urban Outfitters Inc. for comment and will update if we hear back.