EDMONTON — It's anyone's guess whether Thomas Mulcair will stay on as NDP leader Sunday.
In the hallways, on the convention floor and on the reception circuit, NDP delegates disagree on whether Mulcair needs to go. He has an hour Sunday morning to convince the undecided and then the membership will vote to determine if a leadership race will be called.
Whether Mulcair gets the 70 per cent benchmark that party president Rebecca Blaikie identified, or not, his advisors haven't confirmed if he'll address the convention hall or speak with media.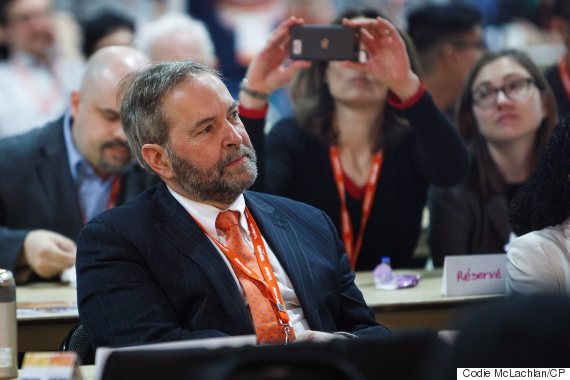 Federal NDP Leader Thomas Mulcair listens to a speech during the 2016 NDP Federal Convention in Edmonton on Saturday, April 9, 2016. (Photo: Codie McLachlan/CP)
So far, this weekend, Mulcair has been busy working the crowd, shaking hands and meeting delegates. He told CBC's The House that Sunday's speech is "probably going to be the most important speech of my political career." [Mulcair has refused to speak to The Huffington Post Canada since last October's election.]
He's expected to address the fact that many members felt excluded in the lead-up to the last campaign and to chart out a new path for the party focused on progressive policies.
A number of delegates told HuffPost they are waiting for that speech before deciding his political future.
Mulcair's most important speech
Burnaby South MP Kennedy Stewart told HuffPost he and his riding delegates are going to listen to Mulcair's speech, talk to people on the floor and try to get the "mood of the convention" before meeting Sunday morning to decide "as a group what to do."
Carol Gordon, a delegate from B.C., wants to see what Mulcair will say but also how the room responds. "We know that it's undecided. That's what I am hearing all over the place.
"I'm watching the winds, the hearts and mind… I want to see how sensitive he is to the membership," Gordon said.
Prime Minister Justin Trudeau won, in part, she said, because he appeared empathetic, sensitive and able to listen. She's looking to see the same thing in Mulcair.
A defeated candidate told HuffPost privately that he's only supporting Mulcair's continued leadership because he thinks the NDP has no shot at all of winning the next election.
"Unless Trudeau kills a baby," he said, the Grits will win another mandate.
An 'extraordinary parliamentarian'
Linda Thibert, an Ontario delegate, said she believes the timing isn't right for a leadership contest.
"The Conservatives have an interim leader, they want to push him out so we have an interim leader? Who holds the Liberals' feet to the fire?" she asked. The timing could be better in 2018, she suggested, when New Democrats are scheduled to have another mandatory leadership review. "But not now… It's going to handicap us in Ottawa. And he's our strength there."
Colleen O'Connell, a member of the NDP since the 1960s, said that while she wants to see the party take a left-wing turn, she will also vote for Mulcair because "he's an extraordinary parliamentarian."
"He should be given the chance for people to get to know him better and for people to observe his parliamentary talent, get around the country, meet more people and learn," O'Connell said. "He's got a lot to learn about relating to people, I guess."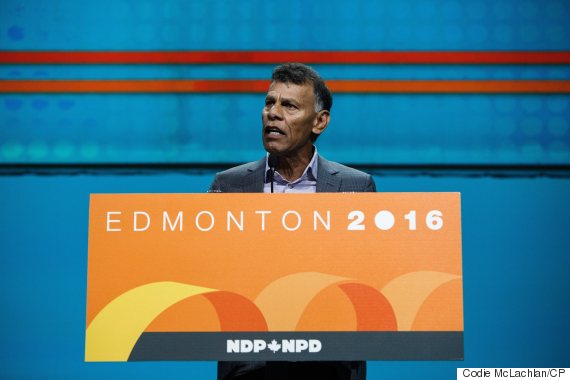 Canadian Labour Congress president Hassan Yussuff gives a speech during the 2016 NDP Federal Convention in Edmonton on Friday, April 8, 2016. (Photo: Codie McLachlan/CP)
Canadian Labour Congress president Hassan Yussuff, who has called for Mulcair's removal, told delegates Friday that elections aren't won in question period.
The NDP needs to spend more time working on the ground to expand its base, he said.
"Most people don't wake up in the morning watching CPAC."
Yussuff said he's hoping the party will come out of Sunday's vote united — and said he's open to changing his mind about Mulcair, if the NDP leader "accounts" for how the party missed a historic opportunity to win power last October.
Mulcair has said he's "taken responsibility but he's never said what that means specifically," Yussuff said. "And more importantly, what will change if he wins the leadership review going forward."
Mulcair's campaign to keep his job
Mulcair has been actively working to keep his job since late January when he met with his parliamentary caucus for a retreat in Montebello, Que.
Mulcair and his advisors had come to the conclusion that he couldn't win Sunday's vote unless he had caucus support.
It was a tough task, perhaps, for leader who was known internally as "not a team player" and whose communications strategy, some MPs complained, seemed modeled on Conservative prime minister Stephen Harper's.
"For the first time in three years, Tom didn't talk down to his MPs, but he asked them how they felt," said an adviser who was there. "He asked them to go back to 'the scene of the crime.' What they thought about the campaign, what went wrong, what went right, mostly what went wrong, he said.
Defeated MP Paul Dewar chaired that post-mortem meeting. Mulcair heard his MPs say the campaign had progressive elements but that there were some "irritants" like the no deficit pledge and his firm refusal not to hike taxes on the wealthy. "It was a frank discussion," the NDP source said.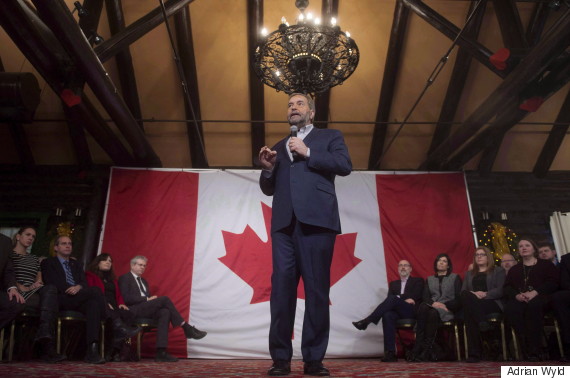 Leader Tom Mulcair speaks to the NDP caucus during a retreat in Montebello, Que., on January 19, 2016. (Photo: Adrian Wyld/CP)
In a second session, the caucus talked about how to fix their problems. Mulcair wanted to know their best ideas. He listened.
During a third session, the NDP's organizational chart was projected on the wall. Did the party have the right staff in the right places? Was it using its budget wisely? Although the party claimed it wanted to do more on ethnic outreach, did it really have the resources in place to do it? The MPs aired their frustrations and shared suggestions.
The second major part of ensuring broad caucus support was a rallying speech Mulcair delivered on income inequality. "Its aim was to tell caucus members and die-hard New Democrats that Mulcair was committed to NDP values," the adviser said. "This is where the party was moving going forward."
"For the first time in three years, Tom didn't talk down to his MPs, but he asked them how they felt."
Mulcair promised to articulate a "social democratic vision for Canada" and to communicate that message effectively to Canadians.
"I am here to say that we will not abandon the social democratic vision for Canada. We will not lose sight of who we are and we who fight for," Mulcair told them.
The message was the NDP was going to win from the left, not by being another party. Stalwarts like Manitoba MP Niki Ashton were "practically jumping out of her chair," one source said.
[Of course, in recent weeks, Ashton has been unwilling to state her support for Mulcair. Some delegates are hoping she might mount another leadership bid to replace him should he lose on Sunday.]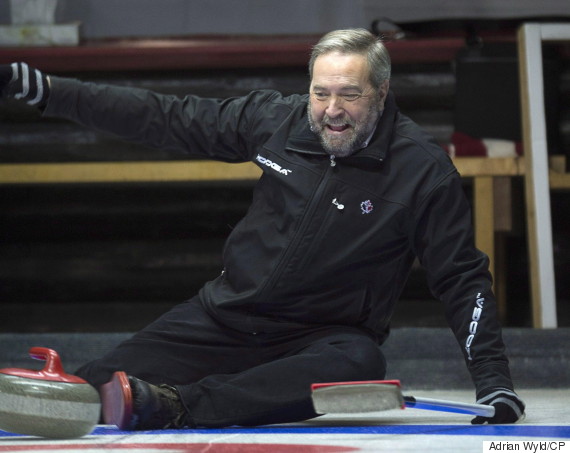 NDP Leader Tom Mulcair as he curls with the NDP Caucus during a retreat in Montebello, Quebec on Tuesday January 19, 2016. (Photo: Adrian Wyld/CP)
The next phase of Mulcair's campaign was to crisscross the country. He was no longer the leader of her Majesty's Loyal Opposition, he was the leader of the third place party.
Mulcair spent less time in the House of Commons. He toured. He met with defeated MPs — many of whom held him personally responsible for the lost and were very upset. He met with candidates, party organizers and riding associations. He attended provincial council meetings and regional council meetings. He called people on the phone. His mission was to "tear up his shirt and show his passion," the adviser said, figuratively.
Mulcair spent a lot of time in Ontario and Alberta, where many of this weekend's delegates are from. He spent three days in Edmonton, for example, where the convention is being held, speaking with small groups and one large gathering of 200 activists.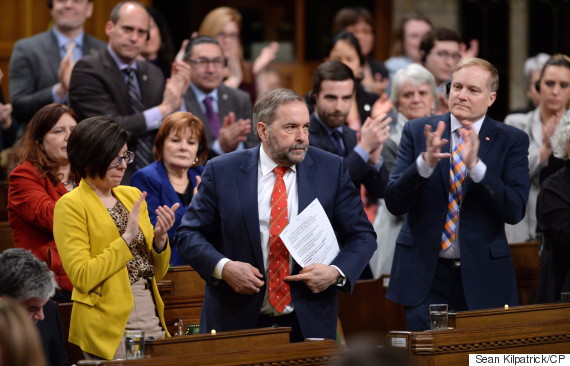 NDP Leader Tom Mulcair stands and is applauded during question period in the House of Commons on Parliament Hill in Ottawa on Feb. 17, 2016. (Photo: Sean Kilpatrick/Canadian Press)
Thursday, Mulcair spent an hour meeting with Young New Democrats. The group's executive had called for him to be removed but after the meeting, they were evenly split and did not issue a broad-base call for a "yes" vote on the leadership review.
Amin Ali was at the meeting and said Mulcair gave a gracious speech with lots of promises. "He made the amends that he needed to make, they were a little bit overdue but it's better late than never."
Mulcair's team seemed reassured by the leader's meeting with the youth delegate. "If the most radical part of the party is 50-50 split," another advisor suggested, "[Mulcair] will probably get more than 70 percent."
Alberta delegation may be the wild card
But even Mulcair's backers suggest his endorsement isn't expected to be resounding.
A former MP confided he thinks Mulcair will win but not by much. "They don't have a good ground game because he doesn't have deep roots in the party," he said. Personally, he added, he wasn't sure which way he was going to vote because he wasn't angry with Mulcair anymore.
There are approximately 400 union delegates — many of whom agree with their own leaders who have strongly endorsed Mulcair despite Yussuff's comments.
The wild card may be the Alberta delegation, whose strength lies between 340 and 500 of the approximately 1,800 expected delegates for Sunday.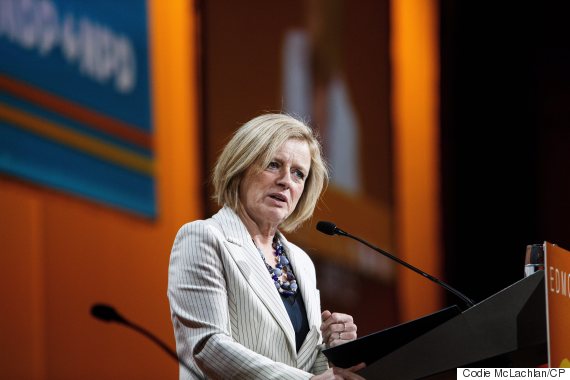 Alberta Premier Rachel Notley gives a speech during the 2016 NDP Federal Convention in Edmonton on April 9, 2016. (Photo: Codie McLachlan/Canadian Press)
Many delegates are extremely unhappy with Mulcair and some are trying to organize against him.
"I want to see him gone!" said one of several delegates who did not want to be quoted.
Edmonton delegate Liam Sparks O'Neill said he's waiting to see what Mulcair says Sunday but he hasn't so far been impressed with the leader.
"What I am hoping to hear is that the direction of the party will be shifted, and we could maybe adopt more of an Alberta NDP style approach because the provincial campaign we ran was really successful and really well organized but the federal campaign… not really."
'Leap Manifesto' debate
Former candidate Janis Irwin worked two years knocking on doors in Edmonton Griesbach, a riding the NDP expected to win. She believes she lost the race in the last few weeks of the campaign as people moved strategically to the Liberals.
Like many Alberta delegates, she thinks the central campaign could have done a lot more to help. "We just saw that as much as you try to build locally there is much beyond your control," she told HuffPost.
"We need to take the party in a strong progressive direction and a lot of folks are telling me that it needs to start at the top with the leader," she added.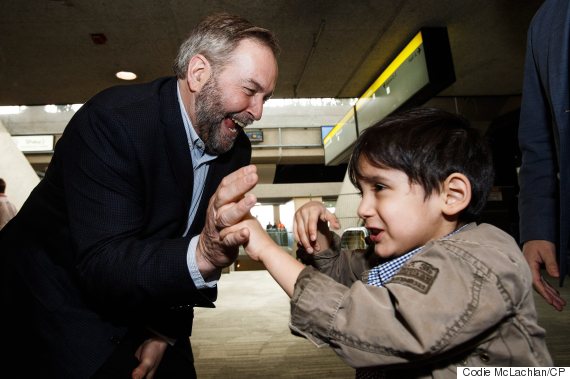 NDP leader Thomas Mulcair gets a five from a young supporter during the 2016 NDP Federal Convention in Edmonton on Friday. (Photo: Codie McLachlan/Canadian Press)
A contentious debate over the Leap Manifesto — pitting delegates from different parts of the country against each other on the issue of climate change, pipelines and fossil fuel infrastructure — may also affect Mulcair's leadership numbers as Alberta delegates weigh his controversial comments to the CBC on keeping oil in the ground.
Saturday, Alberta NDP Premier Rachel Notley delivered a passionate speech urging federal delegates to reject the manifesto saying it would cost real people in her province jobs and that new pipelines could be responsibly built while reducing the amount of carbon in each barrel of oil.
No one waiting in the wings
What may help the NDP leader is that no one is actively campaigning to replace him.
O'Connell said she doesn't see anybody looking to take the job or anyone that even wants it.
"I don't hear any names," she told HuffPost. "My favourite of the caucus would be Nathan Cullen, I think he is fantastically talented."
Cullen, a popular MP from British Columbia who came in third during the 2012 leadership contest, solicited cheers from the crowd when he took the microphone on Saturday and appeared in a party video discussing the last campaign.
Let's work together and let's never give up. #yeg2016https://t.co/NoOpnO9nwN

— NDP_HQ (@NDP_HQ) April 9, 2016
But he insists he isn't interested in the job and wants Mulcair to lead the party in 2019.
"Whenever these reviews go on, I like to pull back and say what kind of leader do I want?" Cullen said. He is searching for someone who is completely bilingual, who is articulate, and cares deeply, and Mulcair is all of those things to him, he said.
While some people still ask him to run "and it's very flattering," Cullen said, he's been pretty clear he's not interested.
But if the vote on Sunday leads to some big surprises, Cullen suggested he already knows who he'll be backing.
"I'm a Megan Leslie fan myself, so that will be the door that I'll be knocking on right away," he said, of the former Halifax MP who was defeated last fall. "I've got all the time for Megan."








Also on HuffPost