OTTAWA — The "limited services and programs" in the Canadian justice system focused on aboriginals and the mentally ill pose obstacles to helping reduce the over-representation of both groups as offenders and victims, says an internal federal study. The researchers underscore a need to address problems at four key points — in the community, from charge to sentencing, in prison and upon return to the community — and they say co-ordinated action "is essential to sustainable change." The study of the two vulnerable groups was prepared by Public Safety with input from eight other federal agencies including Aboriginal Affairs, Health Canada, Justice and the RCMP. The Canadian Press obtained a heavily censored version of the secret report through the Access to Information Act.   It found aboriginals and the mentally ill entangled with the justice system often ran into similar difficulties.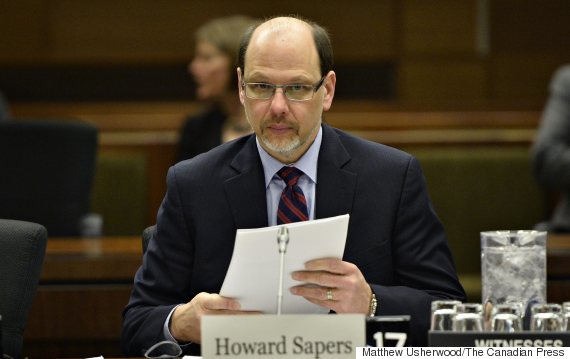 Federal prison ombudsman Howard Sapers. (Photo: CP)
"For both populations there is a need for better co-ordination between federal departments and between (the) federal and provincial government, a more effective use of existing resources, and a need for enhanced programs and services in the community and institutions to meet specific needs," the study says. "For many members of these populations, this is complicated by difficulty in accessing the limited services and programs that are available, often due to limited capacity, such as the lack of knowledge, understanding, ability, education and training." Prime Minister Justin Trudeau has asked Justice Minister Jody Wilson-Raybould to review changes to the criminal justice system and sentencing reforms over the past decade to ensure public safety and value for money. In addition, Trudeau wants her to work with Public Safety Minister Ralph Goodale to address gaps in services to indigenous Canadians and those with mental illness throughout the justice system. The vexing issues have figured prominently in the reports of federal prison ombudsman Howard Sapers for many years. "It's nice to see them being put squarely on the agenda of the ministers involved," Sapers said in a recent interview.
Criminal justice system still 'default responder' to mental-health needs
The study says the issues of greatest concern to indigenous people are complex and intertwined, as aboriginal communities, compared with others, struggle with poorer health, lower levels of education, underemployment, higher incarceration levels and higher suicide rates.  "A multi-dimensional and long-standing problem such as aboriginal over-representation cannot be effectively addressed solely by the criminal justice system." The study points out several challenges specific to aboriginals at various stages of the justice process — from the need for "culturally appropriate" programming in prisons to the fact aboriginal offenders tend to serve a higher proportion of their sentence in custody, compared to other offenders, before being released on parole. The criminal justice system continues to be "the default responder" for a substantial number of people with mental-health needs, the researchers conclude.
"It's nice to see them being put squarely on the agenda of the ministers involved." —Howard Sapers
However, mental health care and social services to address related problems such as substance abuse, domestic violence, homelessness, unemployment and lack of skills fall under provincial and territorial jurisdiction, the study notes. "The federal government's leverage to assure adequate access to an availability of these services is limited." Time spent in pre-sentence detention without programming can make psychological illness worse. Jails and prisons, meanwhile, struggle to meet an increasing demand for treatment of sentenced offenders.   The numerous options in the study to address the various problems were withheld from release, though the researchers say they amount to a framework for federal action. Follow @JimBronskill on Twitter