EDMONTON — Thomas Mulcair was resoundingly rejected as the future of the NDP at a party convention Sunday.
Fifty-two per cent of the approximately 1,800 delegates in Edmonton voted in favour of having a leadership contest. It was a crushing defeat that surprised Mulcair's advisers, supporters and detractors alike.
The result was likely influenced by the NDP's disastrous election campaign, one that saw it blow a first-place lead in national public opinion polls to land with a third-place finish, by running on a platform that many New Democrats found too centrist.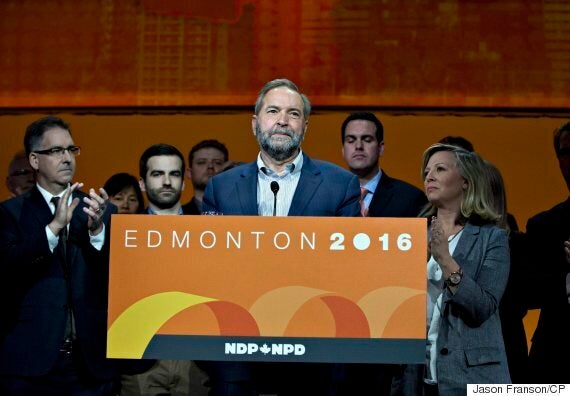 Federal NDP Leader Tom Mulcair is applauded at the NDP Federal Convention in Edmonton Alta, on Sunday, April 10, 2016. (Photo: Jason Franson/CP)
Mulcair received only 48 per cent support for his continued leadership — a far cry from the 70 per cent benchmark set out for him by outgoing party president Rebecca Blaikie. Mulcair had refused to give his own target, repeating that all he needed was 50 per cent plus one but that he hoped for a "significant majority."
Sunday, New Democrats voted for change.
The result was greeted by one loud cry of "Yes!" and some clapping. Most delegates, however, seemed stunned into silence.
After a short meeting with his caucus — which itself was split — Mulcair chose to remain party leader until his successor is chosen, sometime within the next 24 months.
In a concession speech, Mulcair thanked his wife and said delegates were clearly divided on the subject of his leadership. The next leader, he told them, "must have the infallible support of 100 per cent of the members."
"The disappointment from the election, obviously, is something that we are now going to be able to leave behind us with a change at the helm, and that's fine," he said of the Oct. 19 election result.
"The only thing that is important is that we leave here united."
Mulcair had been given up to an hour to help sway delegates to his side Sunday morning. He took 30 minutes and delivered a speech that many in the audience found lacking.
He played up his strength as a fluently bilingual leader and noted that still a million Quebecers supported the NDP. He urged party unity and accepted blame for the mistakes of last year's election. He pumped his fist in the air and said he wouldn't accept the big banks and their executives making billion-dollar profits and bonuses while laying off thousands of Canadians.
"The disappointment from the election, obviously, is something that we are now going to be able to leave behind us with a change at the helm, and that's fine."

— Thomas Mulcair
Robyn Benson, the national president of the Public Service Alliance of Canada who had previously called for a change in leadership, judged the effort uninspiring.
"He clearly did not articulate why we should vote for him. He talked about party platforms which we all agree with," she told The Huffington Post Canada.
Mulcair failed to show delegates he was ready to embrace a new direction, she said.
"Many people here want change. We want to renew, so that when we move forward we can actually form government in 2019."
Ex-MP: Delegates didn't think he could win
Jack Harris, an MP from Newfoundland and Labrador who was defeated last fall, expressed surprise at the result. He said New Democrats want to have a run at government "and they didn't think Tom could do it."
Quebec delegate Pierre Ducasse, a member of the NDP since the 1980s and a former leadership candidate, said Mulcair's "top down, less team player" approach had hurt him in the end.
"With Jack [Layton, the late NDP leader who won 103 seats in the 2011 election], the party was a little bit more collegial with the MPs, so we had more that sense that we won or loss together, and Tom was different," he said. "So when you have a defeat, the responsibility lies even more with you and I think that's what we just saw."
Defeated Quebec MP Alain Giguère thought delegates would give Mulcair more time, until 2018, to prove his credentials — the party schedules mandatory leadership reviews every two years.
But his speech fell flat. "There was no enthusiasm," Giguère said. "People said no. You were not NDP."
Terry Shillington, a delegate from Lethbridge, Alta, said he didn't want to see "blood on the floor" but he voted for the leadership contest because he didn't think Mulcair could win a new election.
"We packaged him in the election as a middle of the road leader who wasn't going to rock any boats and I think the boat needs to be rocked," he told HuffPost. "It's not a personal vendetta out, it's just that people are debating strategically more about how we go forward."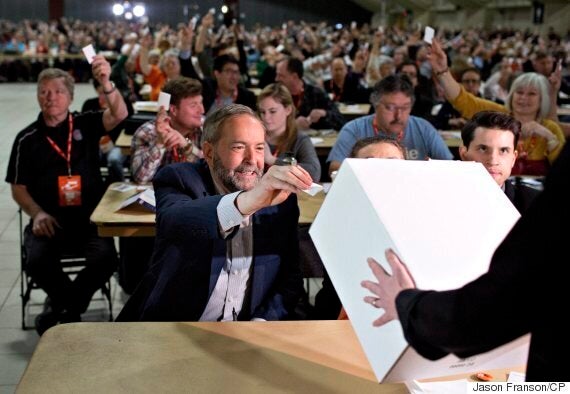 Federal NDP Leader Tom Mulcair casts his vote for the party leadership during the 2016 NDP Federal Convention in Edmonton Alta, on Sunday, April 10, 2016. (Photo: Jason Franson/CP)
Some Mulcair loyalists had tears in their eyes.
Jennifer Burgis, a B.C. delegate who sits on the NDP council, said she was surprised, shocked and disappointed the membership had voted to give Mulcair the boot. Under him, the party had received the second largest number of seats ever, 44, had raised more money than ever, and received nearly 3.5 million votes, she said.
"That is the difficulty that I have absorbing the fact that the floor didn't feel that Mr. Mulcair did that for us, and I feel he did," she said.
Delegates open to the Leap
The shocking vote culminated a three-day conference that was marked with periods of high drama and a substantive policy discussion on the future direction of the NDP when it comes to fossil fuels, pipelines and climate change.
Saturday, NDP Premier Rachel Notley gave a passionate speech urging delegates to reject the Leap Manifesto — a radical document that calls for a rethink of the Canadian economy towards a fossil fuel-free environment.
The Alberta NDP is already leading on climate change measures, cutting coal plants and the level of carbon in each barrel of oil, she said, but the province needs new pipelines to bring its oil to market and put its 60,000 unemployed workers back to work.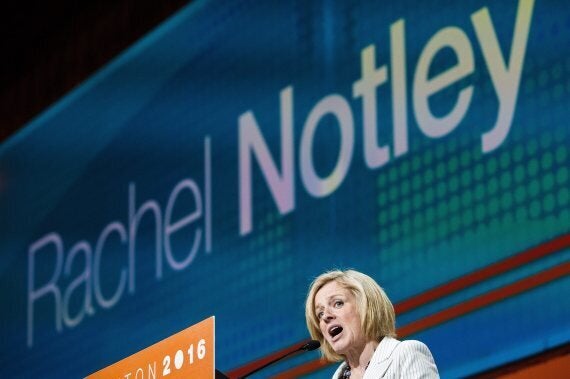 Alberta Premier Rachel Notley gives a speech during the 2016 NDP Federal Convention in Edmonton. (Photo: The Canadian Press)
Supporting the Leap Manifesto, Notley suggested, would give her opponents ammunition and could lead to "climate change denying, science-muzzling, regressive" Tory governments back in power in Alberta.
She was followed later that evening by an even more eloquent Stephen Lewis, who urged his party to embrace the manifesto as "the kind of proposition that re-energizes and reanimates through a lens of determinedly left-wing analysis, a social-democratic party that's searching for renewed vision." Lewis' son, Avi, is a key figure behind the document.
Sunday morning, before Mulcair delivered his less impressive performance, NDP delegates voted to embrace the manifesto "as a high-level statement of principles that speaks to the aspirations, history, and values of the party." The Leap Manifesto will be discussed in riding associations across the country and inform the policy resolutions leading up to its next convention in two years.
It's uncertain how the discussions surrounding the manifesto affected Mulcair's leadership vote but it is clear some delegates decided to punish the NDP leader for views he expressed that were seen as un-Albertan.
During his speech, several delegates from Alberta stayed in their chairs, arms crossed, while others stood to give standing ovations or clapped politely.
"I'm an Alberta New Democrat first and I'm huge Rachel Notley supporter," said Kyle Rempfer. He voted for a leadership contest because of comments Mulcair made to CBC's Peter Mansbridge last week where the NDP leader said that if the members of the party told him oil should stay in the ground, he would "do everything I can to make that a reality."
"We have to work with the energy industry if we are going to tackle our climate change commitment," Rempfer said. "This debate around the Leap Manifesto … I think this could be the kiss of death for New Democrats in Alberta."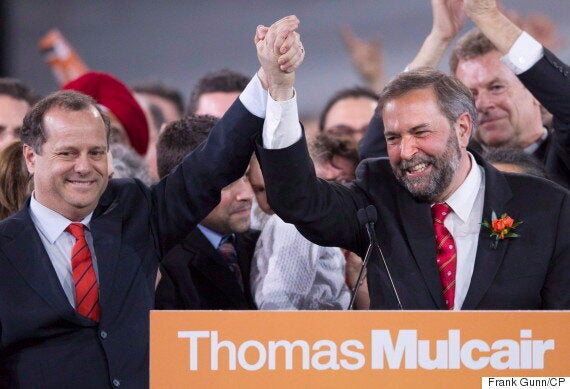 Thomas Mulcair reacts with Brian Topp on stage during the NDP leadership convention in Toronto on Saturday, March 24, 2012. (Photo: Frank Gunn/CP)
Notley's chief of staff Brian Topp told HuffPost he wasn't sure what had happened at the convention and that he had never seen anything like it in his nearly three decades with the party. Topp, a close friend and adviser to Layton, ran against Mulcair for the leadership in 2012 and finished second.
Sunday, he didn't flatly rule out a future run.
"This job [NDP leader] is going to be four to eight years of 200 days a year on the road rebuilding the party, and then you are just starting. After you've won, you're prime minister. You're in for hopefully two terms, that's another eight years. So whoever decides to run is signing up for a 16 to 20 year job, I would have to think very carefully before doing that again," Topp said.
'Today I'm thinking about Tom'
Another potential candidate, Manitoba MP Niki Ashton, did not answer when asked whether she might run. "I think a lot of us have a lot to digest."
B.C. MP Peter Julian said he wasn't "even thinking about that" right away. "Today I'm thinking about Tom."
"Without Tom's work in the House of Commons, I'm convinced that Stephen Harper would still be prime minister," Julian said. "I'm saddened by the result but it's a democratic convention, people made their choice and we'll move forward."
Other potential candidates include defeated Halifax MP Megan Leslie and B.C. MP Nathan Cullen. He told HuffPost, before the convention, that he's not interested in running and he planned to knock on Leslie's door if it came to it.