Critics of Republican presidential candidate Ted Cruz relished this clip of his daughter refusing a hug from him, and now another hopeful's kids have embarrassed him too.
Donald Trump told Fox & Friends Monday that his children Ivanka and Eric didn't register in time to vote in this month's primary in New York.
"They feel very guilty, but it's fine," he said. "I mean, I understand that."
"I think they have to register a year in advance and they didn't. So Eric and Ivanka, I guess, won't be voting."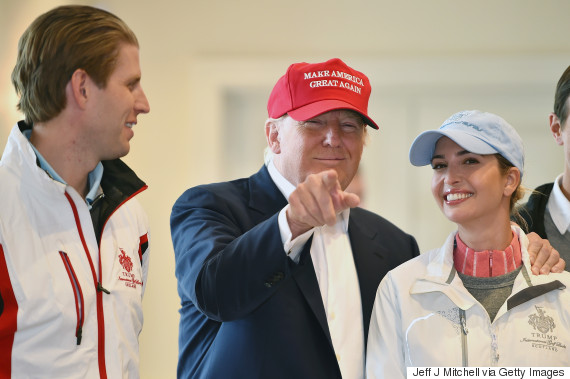 Donald Trump visits his Scottish golf course Turnberry with his children Ivanka Trump and Eric Trump July 30, 2015 in Ayr, Scotland. (Photo: Jeff J Mitchell/Getty Images)
A New York board of elections spokesman told the Wall Street Journal that voters who weren't registered had to do so last month in order to vote in the April 19 primary. Those who wanted to switch their party registration had to sign up last October.
New York State's primary is only open to registered Democrats or Republicans, and neither Ivanka nor Eric belong to a party, according to Yahoo News, even though they've appeared with their dad on the campaign trail.
Both of them have also made donations to Democrats, the site reports. However, so has Donald.
His eldest son, Donald Trump Jr., is a Republican.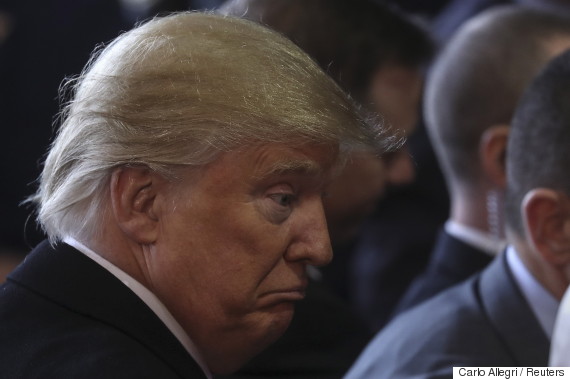 Donald Trump leaves following a campaign event at an airplane hanger in Rochester, New York April 10, 2016. (Photo: Reuters)
The GOP frontrunner had a bad weekend. At a Colorado assembly, he didn't win a single vote among 34 delegates who will represent the state at the Republican nominating convention this summer, The Canadian Press reports.
He also lost in a similar vote a few days beforehand in North Dakota.
Along with Colorado, rival Ted Cruz also won primaries recently in Wisconsin and Utah, making it more likely that neither he nor Trump will have enough delegates to clinch the party's nomination, according to The Denver Post. If that happens, the convention will be a contest between the two.
For more, you can watch the video above.
Also on HuffPost