Seven-month-old Abigail Karow was put down for a nap at daycare. When caretakers went to check on her an hour later, they found her unconscious and unresponsive. She died two days later in hospital.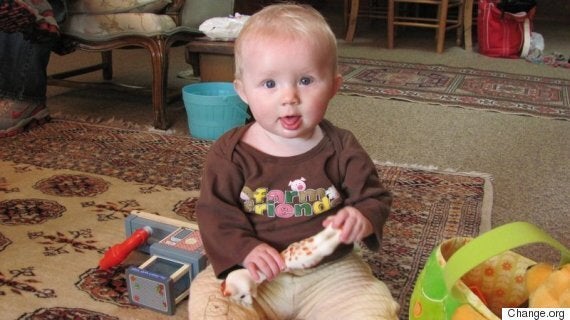 Abigail Karow before her death in 2010. (Photo: Change.org)
"Putting a baby on their stomach is not a crime," Tiffany told ABC7 News. "And it happens and she should have been able to breathe on that mattress."
Evenflo Inc. stands behind their product. Following the lawsuit verdict, the company released a statement saying,"We remain in agreement with all of the treating medical providers who concluded that Abby's death was the result of SIDS — Sudden Infant Death Syndrome. Evenflo stands behind the design of its playyard mattress pad and remains confident it was not the cause of her tragic death. We are extremely disappointed with the verdict of the jury and are considering all options, including an appeal."
Currently there is no law to regulate a mattress' breathability in the U.S. Following the verdict, the Karows started a petition on Change.org to make surface breathability a mandatory requirement in mattress pads for babies. At the time of this post's publish, they had more than 120,000 signatures, 28,000 away from their goal. The couple plans to send the petition to the CPSC and governors and senators in California.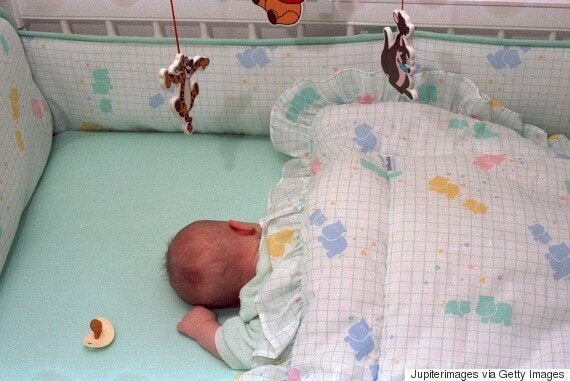 Current recommendations say babies should be put to sleep on their backs, not front as pictured, to reduce the risk of sudden death. (Photo: Gettystock)
Increasing awareness about SIDS is also part of the Karows' campaign. "One thing very clear to us from the experts who spoke in our trial AND our personal experience is that far too often, 'SIDS' is ruled the diagnosis when suffocation by an avoidable hazard is the REAL problem," they wrote on Change.org.
'No better than a plastic bag'
Baby crib bumpers can also pose a danger. Last November, CTV News cited a study that posited about 32 of the 48 infant deaths reported to the Consumer Product Safety Commission (CPSC) between 1985 to 2012 could have been prevented if baby crib bumpers weren't placed in the crib.
"You buy stuff at the store because it's at the store, and it's made for babies, and we think it's safe, and you don't think that putting a baby down on its stomach or on its back or on its side is going to kill your kid. And it did," Tiffany said.
SIDS diagnoses fall out of favour
"To complicate matters, people who investigate SUIDs (Sudden Unexpected Infant Deaths) may report cause of death in different ways and may not include enough information about the circumstances of the event from the death scene," the site reads. This is what the Karows suspect occurred with Abigail's death.
The National Post reported earlier this year that SIDS diagnoses have fallen out of favour among doctors, and Ontario has not reported a SIDS death in two years, a shift that has caused further anguish to some grieving parents who have lost their babies.
HuffPost Canada Parents has reached out to Evenflo Inc. for comment and will update this story as needed.