Const. Sarah Beckett, who was killed in an on-duty crash near Victoria, B.C., will be honoured in a regimental funeral on Tuesday.
The public is invited to join Beckett's family and law enforcement colleagues at the service, said the RCMP in a news release on Monday.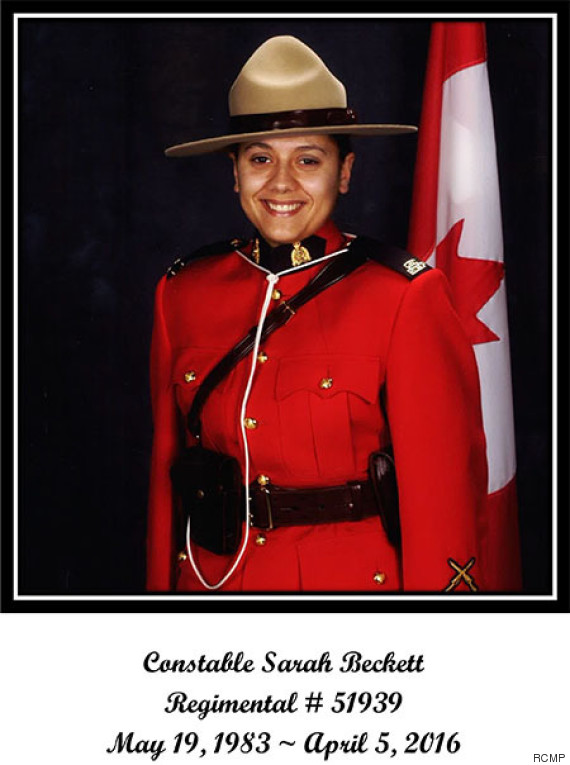 Beckett, 32, was on general duty when a pickup truck hit her cruiser in Langford last week. She died of her injuries, leaving her husband and two young sons.
The driver of the truck was released without charges but a criminal investigation is ongoing, said RCMP.
A procession of officers starts at about 1 p.m. PT on the Island Highway and Wilfert Road in Colwood in Greater Victoria and will march to the Q Centre. Roads will be closed from about noon onward.
Funeral services will begin at 2 p.m. at the Q Centre. There will be a limited number of designated seats for the public, who will need to be there by 12:45 p.m.
A public viewing area will also be set up at the Westhills Stadium in Langford.
Beckett's funeral service can also be viewed online at a livestream set up by the RCMP.
Trust fund set up
The Victoria division of the RCMP Veterans' Association has established a trust account at Coast Capital Savings Credit Union under the name "Sarah Beckett Family In Trust" for people who want to give donations.
Anyone who cannot access a branch across the Lower Mainland and Vancouver Island, can send a cheque payable to: Sarah Beckett Family In Trust and mail to:
Victoria RCMP Veterans' Association
Attn: Frank Campbell, Treasurer
894 Le Clair Place
Victoria, B.C. V8V 4V9
Also on HuffPost
RCMP Officers Killed In The Line Of Duty