BRUSSELS — European Union nations and lawmakers have been told to hold urgent talks on how to respond to the failure of Canada, the U.S. and Brunei to extend visa rights to citizens of all 28 member states.
The European Commission invited them Tuesday "to urgently launch discussions and to take a position on the most appropriate way forward" within three months
The talks could lead to visa requirements being imposed on travellers from the three countries.
EU officials say Canada demands visas for Bulgarians and Romanians.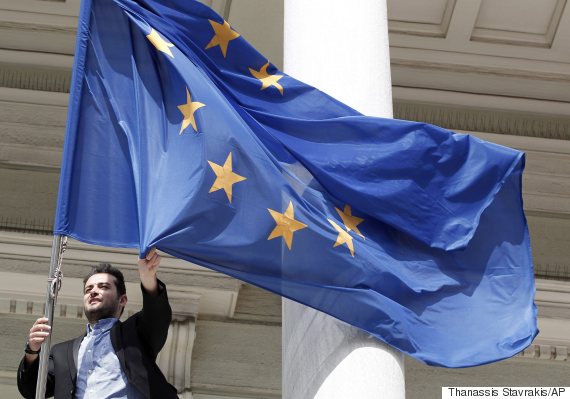 A plain clothes police officer unfurls a European Union flag before the meeting between Greek Foreign Minister Nikos Kotzias and his Turkish counterpart Mevlut Cavusoglu at the Foreign Ministry in Athens, Friday, March 4, 2016. (Photo: Thanassis Stavrakis/AP)
Canadian officials had no immediate comment.
The U.S. requires visas for travellers from Bulgaria, Croatia, Cyprus, Poland and Romania.
Top EU interior affairs official Dimitris Avramopoulos pledged to continue visa talks with Canada, the U.S. and Brunei.
"Full visa reciprocity will stay high on the agenda of our bilateral relations with these countries and we will continue pursuing a balanced and fair outcome," said Avramopoulos.
Worries the dispute could affect trade deal
Because of various EU rules, it could be several months before a visa requirement would go into effect. But the political fallout from the ongoing dispute is surfacing in a year when Canada and the EU hope to finally ratify their landmark free-trade deal.
The U.S. and the EU have also embarked on their own free-trade negotiations.
The European Parliament and Commission will have four months to block the visa move if a majority vote in either of those bodies fails to uphold it.
The issue has not crept up on Canada because the required two-year notice of the non-reciprocity action was published in EU journals on April 12, 2014.
A spokesman for Immigration Minister John McCallum has said officials in Ottawa and Brussels are heavily engaged in talks with Romania, Bulgaria and the European Commission.
Also on HuffPost
Canada-EU Free Trade Deal: What You Need To Know