OTTAWA — The Canadian military was too focused on waging a bloody war against the Taliban 10 years ago to deal with reports from its own soldiers that children were being sexually abused by Afghans, an inquiry has concluded.
No soldiers were ever explicitly told to turn a blind eye to abuse, but no one quite grasped how homosexuality was viewed in Afghanistan or how to deal with incidents of abuse, said the report, released Tuesday nearly six years after it was completed.
Better cultural training ahead of deployments, clearer directives on what must be reported and changes to the military's rules of engagement and code of conduct have all been implemented since one soldier went to the media in 2008 with his story of witnessing abuse and an allegation soldiers were being told to ignore it.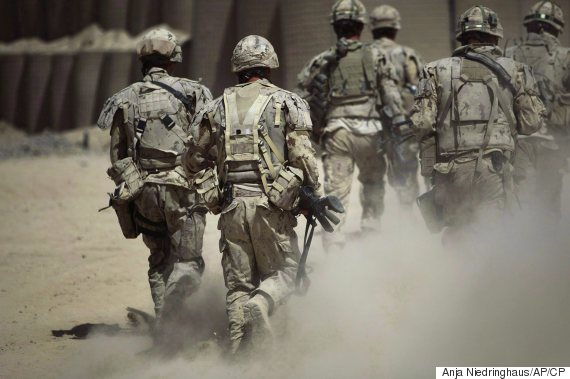 Canadian soldiers patrol southwest of Kandahar, Afghanistan, Monday, June 7, 2010. (Photo: Anja Niedringhaus/AP/CP)
The subsequent Toronto Star report spurred the military into action, and when the board of inquiry was established it learned that Canadian soldiers had been seeing or hearing Afghan soldiers having sex with boys since 2006.
Some reports were dismissed as hearsay, while others just never made it to National Defence headquarters. A recommendation that the military review its policy on how to handle complaints also never made it up the chain of command.
As a result, no action could be taken at senior defence or diplomatic levels to address the issue, the report concluded.
The battle just to survive the deadly terrain of Kandahar province in 2007-08 was everyone's priority, the military said.
"Many (soldiers) in combat outposts where they would have heard reports of this type of behaviour, top of mind for them was their own survival in combat operations."
"Many (soldiers) in combat outposts where they would have heard reports of this type of behaviour, top of mind for them was their own survival in combat operations," said Col. Jay Janzen, a military spokesman.
The experience has taught the Canadian Forces that it's important to ensure soldiers know "instinctively" what they have to do, "even under the most difficult and demanding circumstances," he added.
"They know that these incidents have to be reported up the chain of command, they know what's expected of them and I think we've made a lot of progress in that regard over the last few years."
6 years to sign off on report
The board of inquiry concluded its report in 2010 but it took six years for the chief of defence staff to sign off and make it public. That delay was attributed to the complexity of its recommendations and competing military priorities.
The report underscores a recurring criticism levelled at the Canadian government and the military in their approach to the war in Afghanistan: no one ever fully understood the culture of the country and didn't take time to learn it.
The inquiry concluded the military never addressed a perception in its ranks that Afghan men routinely engaged in sexual activities on Thursdays, and that the activity could involve children _ a perception it described as being based on "rumour and innuendo based on preconceived notions" that could encourage "cultural intolerance and bias."
Since soldiers are trained to be accepting of cultural differences, many accepted what they were hearing as fact.
"Without specific orders or instruction on what practices in a foreign culture are illegal, some soldiers believed that the practice of sexually abusing children was condoned by the Afghans and was therefore not considered reportable," the report found.
The military has already concluded that no Canadians were involved in the sexual assault of Afghan minors.
ALSO ON HUFFPOST:
Bryan Adams' Stunning Vet Photo Series