OTTAWA — Tom Mulcair was greeted with a standing ovation from MPs of all parties Tuesday when he returned to the Commons after NDP members rejected his leadership over the weekend.
Only 48 per cent of delegates voted to support him Sunday, and two days after his historic defeat, many New Democrats are still wondering what exactly happened.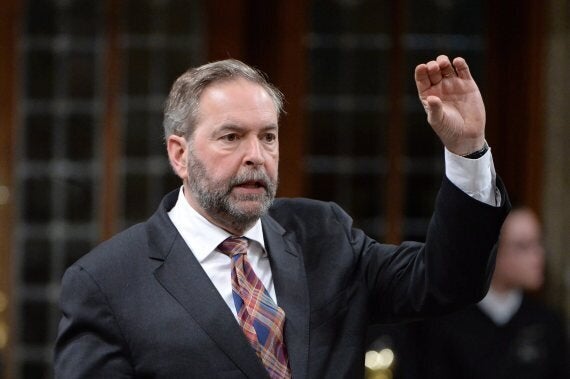 Tom Mulcair takes part in a debate on the federal budget in the House of Commons in Ottawa, Tuesday, April 12, 2016. (Photo: Adrian Wyld/CP)
As HuffPost reported Sunday, many delegates were upset by the federal election campaign and its result, they felt Mulcair wasn't the person to lead them at the next election in 2019, and the leader wasn't helped by a contentious debate over the Leap Manifesto.
Comments Mulcair made to CBC's Peter Mansbridge saying he'd champion keeping oil in the ground, if that's what New Democrats wanted, also didn't help — more than 340 delegates were from Alberta, where tens of thousands have lost their jobs in the oil patch.
Mulcair's office had worked behind-the-scenes with backers of the Leap Manifesto to craft a compromise resolution that could pass the convention floor and allow members to discuss its policy proposals without tying the leader's hands.
When debate arrived Sunday, Mulcair stayed out of it.
But for delegates like Toronto's Hans Modlich, it was clear the manifesto was "only carried and enabled by the leadership's recognizing that they needed to embrace the party left."
"It seems like he kind of won neither side over."

— Professor Christo Aivalis
Christo Aivalis, an adjunct political science professor at Queen's University, said Mulcair may have hurt himself by trying to have it both ways.
"It seems like he kind of won neither side over," Aivalis said.
The people the who were anti-Leap Manifesto — Alberta Premier Rachel Notley and the Alberta delegation — saw the adoption of the resolution as a slap in the face, he said. On the other side, the people backing the manifesto felt that Mulcair's effort was half-hearted and that he couldn't be trusted to champion its principles, Aivalis said.
On Saturday, Notley gave a passionate speech in which she avoided praising Mulcair and instead urged delegates to reject the manifesto.
When asked whether the premier's office supported Mulcair's continued leadership, deputy premier Sarah Marjorie Hoffman would say only that the membership would decide.
"The membership will answer that question tomorrow, and we'll have a much clearer idea of the future of Tom Mulcair after that," she said.
Several New Democrats told HuffPost they believe the Alberta delegates — roughly a quarter of the 1,800 members at the convention — were organized.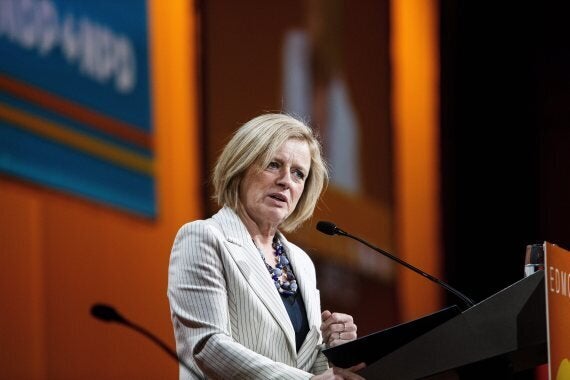 Rachel Notley gives a speech during the 2016 NDP Federal Convention in Edmonton on Saturday, April 9, 2016. (Photo: Codie McLachlan/CP)
A "yes" vote from the Alberta team in favour of a review could have swung Mulcair from a 70 per cent to just below 50.
"I was led to believe that it was organized, but that's democracy too," Quebec MP Pierre-Luc Dusseault said.
On Tuesday, Notley's office denied any attempt at "organizing" the Alberta delegates — many of whom were Edmonton-based.
"There was no whipping of the vote coming out of Rachel Notley's office, or from Mr. [Brian] Topp," Cheryl Oates, the premier's director of communications, wrote in an email.
Topp is Notley's chief of staff and was Mulcair's 2012 rival for the leadership. He ruled out a future run on Monday.
Mulcair's team may just have been outmanoeuvred by delegates who were "self-organized," said an NDP adviser who requested anonymity before speaking candidly.
"Usually, when convention attendance skyrockets, it's people who want change…. You spend that kind of money to vote for or against your leader, and usually the motivation is about change," he said.
A week before the convention, 1,400 delegates were registered. On Saturday, there were 1,794.
"Who were the delegates that piled on at the end, and what happened in Alberta, those are the two stories."
The CBC interview, which "pissed off a lot of people," happened three days before the convention — not enough time for Mulcair's people to organize more delegates, the NDP strategist said.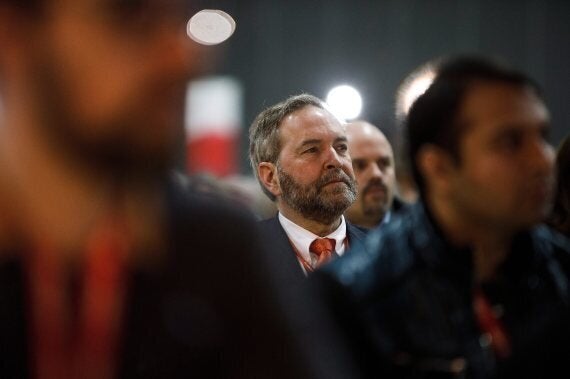 Federal NDP Leader Thomas Mulcair listens to a speech during the 2016 NDP Federal Convention in Edmonton on April 9, 2016. (Photo: Codie McLachlan/CP)
One defeated candidate said Mulcair called him five times and that his assistant, George Smith, had called another 10 times.
But during the convention, there were few signs that Mulcair's supporters were actively campaigning for him.
Some of the strongest arguments in favour of a "no" vote were to give him another two years because the party was broke and there were no leadership candidates in the wings.
Mulcair spent his time doing many media interviews — reaching mostly folks who could not vote for him. While he greeted delegates in the convention hall, posing for pictures and listening to the debates and speeches, his presence seemed missing outside in the hallways, where delegates were mingling, and at many of the evenings' social events. There were few "Tom Mulcair" signs or thunder sticks, although one insider noted that a full-out campaign might have encouraged anti-Mulcair teams to organize loudly themselves.
While many delegates arrived at the convention with their minds made up, others said they were undecided and open to hearing what Mulcair had to say.
"His speech was a good speech, but it didn't deal the elephant in the room."

— Unifor's national president Jerry Dias
But several New Democrats suggested that Mulcair failed to do the one thing he needed to: tell delegates why he was the right person to lead the party into the 2019 election.
"His speech was a good speech, but it didn't deal the elephant in the room," Unifor's national president Jerry Dias said. "And the elephant in the room is: Why does he want to be the leader, or why should people vote for him?"
Mulcair seemed unable to answer that question publicly for months. On Feb. 17, reporters asked him five times why he should be leader.
"Our social democratic values are essential in our society, and for over 50 years, the NDP has brought that vision forward in the House of Commons and I plan to continue to do that," was his most direct answer when HuffPost asked him.
Dias also thinks Mulcair should have shown "courage" and addressed the "whole debate" over the Leap Manifesto.
"He didn't talk about it in his speech, so it looked like he was dodging it."
Dias said he is comfortable with the compromise resolution that passed, and he will actively ensure that members know what the Leap means for workers, those who have "the most skin in the game."
Mulcair, Dias said is "an aggressive, in your face, large personality," but he didn't show it at the convention.
Questions about Mulcair's continued leadership
On Sunday, after the crushing result was announced, Mulcair told delegates he plans to remain at the helm of the NDP until a successor is chosen, a tenure that could last another two years.
He showed them Tuesday why they should want to keep him. He delivered a forceful critique of the Liberal government in question period and engaged in a spirited debate over their deficit budget.
Behind the scenes, several NDP caucus members are questioning whether it's feasible for Mulcair to stay on that long.
B.C. MP Don Davies told reporters on Monday that he believes it will be "very difficult" for Mulcair to remain leader for another year and a half.
"We invited Tom to make his case as to why he should lead us, and he got 48 per cent. And, you know, numbers are real," Davies said.
If the NDP takes the position that 50 per cent plus one is enough for Quebec to separate from Canada, he added, why should NDP members believe Mulcair's 48 per cent support is a vote for him to stay on as leader?
On Tuesday, Davies' office was referring media calls to the NDP's central office for comment.
Several MPs told The Huffington Post Canada that they believe Mulcair should remain leader for the time being to provide some stability in the House of Commons.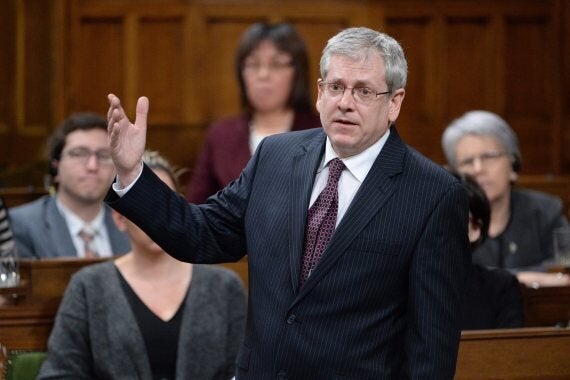 MP Charlie Angus in the House of Commons, April 12, 2016. (Photo: Adrian Wyld/CP)
"It's an opportunity for Tom to really shine at this moment," Northern Ontario MP Charlie Angus said.
"A leadership review is not a repudiation of the leader," Angus added. "It's whether or not we need to review the process."
Quebec MP Christine Moore said it would be difficult for the party to have an interim leader and then another permanent leader in 18 or so months from now.
"[Mulcair's] work in the House has always been impeccable. He's excellent, and keeping him there provides a certain stability in our parliamentary work," she said.
Even Manitoba MP Daniel Blaikie, who wouldn't say whether he supported Mulcair on Sunday, said he thinks the current leader should remain.
"I'm glad Tom is going to be there until we have a successor…[but] I support the membership in making their decision," he said.
"I think they had an idea in their mind of what they were looking for, and the verdict seems to say that whatever Tom did, it wasn't exactly that they were looking for," he said.
Mulcair's office won't rule out future run
While Mulcair told delegates Sunday that "the person that replaces me, must have the infallible support of 100 per cent of the members," his office won't categorically rule out a future run.
The NDP's rules do not prevent leaders rejected by the membership from running again in a leadership contest.
Smith, his assistant and spokesman, would say only that Mulcair would answers questions Wednesday.
Quebec MP Roméo Saganash said he would be shocked if Mulcair decided to stick around. "I don't think he'd do that."
"It's certain that if he wants to run again, he needs to relinquish his spot in the Commons, and I think he knows that," she said.
"I think the fact that he is staying around takes a lot of guts."

— Unifor's national president Jerry Dias
Dias said it would "just be completely foolish" of Mulcair to stay on.
In the meantime, however, Dias has high praise for Mulcair for putting the "greater good of the organization" ahead of his personal feelings.
"I think the fact that he is staying around takes a lot of guts," Dias said. "Most people would have walked away and said, 'You know what, I'm being rejected so I am going to pick up my bat and ball and leave.'"
The NDP's federal council is expected to meet to discuss the rules around a new leadership race in early May.