Jack MacLaren/Facebook
TORONTO — A Progressive Conservative member of the Ontario legislature who landed in hot water last week over a sexist joke about a Liberal MP apologized Wednesday for posting fake constituent endorsements on his website.
Jack MacLaren met with party officials for over an hour before he emerged to say the phoney endorsements were no longer on his website.
"I apologize. We have removed it from my website and we're sorry it happened," MacLaren told reporters before walking away and refusing to answer questions.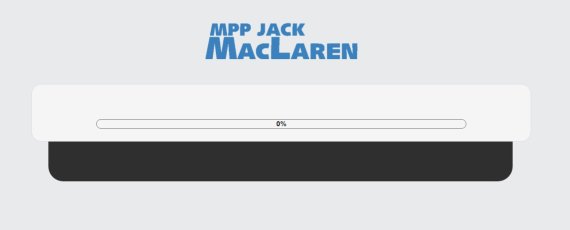 MacLaren's website was down Wednesday morning. (Photo: Screengrab)
The Ottawa Citizen first reported the phoney names and pictures on MacLaren's site Tuesday night. By Wednesday morning, a disclaimer had been posted on the site admitting the names and pictures of the alleged constituents were not real.
MacLaren, who represents Carleton-Mississippi Mills, in eastern Ontario, also sent out an email insisting the fake photographs and names were used to ``protect the privacy'' of people who provided positive feedback to his office.
"While this was not intended to be misleading, I recognize that it was improper," he said.
MacLaren's website was shut down by Wednesday afternoon.
Progressive Conservative Leader Patrick Brown said he was still gathering all the facts on MacLaren's website.
"I will weigh my options once I've gathered all the details,'' said Brown. "I'm going to do my due diligence."
Just last week Brown had to distance himself from ``misogynist comments'' that MacLaren made in the form of a crude, sexual joke he told about Liberal MP Karen McCrimmon at a fundraising event.
MacLaren refused to talk to the media about his off colour comments, but he did issue an apology to McCrimmon after the story became public _ weeks after the event.
Brown insisted Wednesday that caucus matters must remain private, but MacLaren's latest controversy had some of his Tory caucus colleagues quietly admitting they want him gone from the party.