TORONTO — A new report says the cost of renting a condo in Toronto climbed almost seven per cent in the first quarter of this year. Real estate consulting firm Urbanation says average condo rents in Toronto rose to $2.53 per square foot, or $1,891 a month, in the three months ended March 31. That's up by 6.8 per cent from a year ago.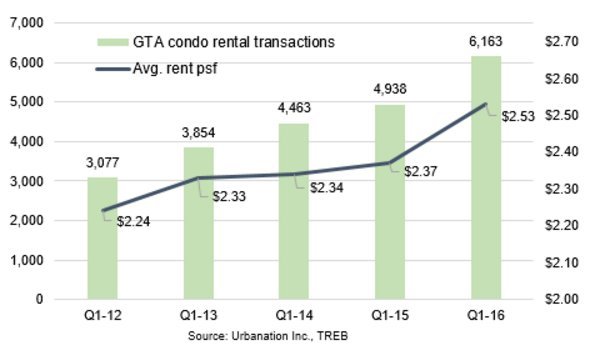 The number of condo rental transactions has been growing rapidly, as have rental rates. (Chart: Urbanation)
Urbanation's senior vice-president, Shaun Hildebrand, attributes the increase partially to the fact that many would-be buyers are getting priced out of the home ownership market, pushing demand for rental units higher. Hildebrand says strong economic fundamentals such as employment and population growth also contributed to higher rents. Meanwhile, the number of applications to build rental-only buildings jumped by 40 per cent in the first three months of the year. "Even with record numbers of condos coming up for rent by investors, conditions have tightened, supporting increased rental development," Hildebrand said in a statement.
Also on HuffPost:
Photo gallery

Toronto's Best Neighbourhoods, According to Toronto Life

See Gallery