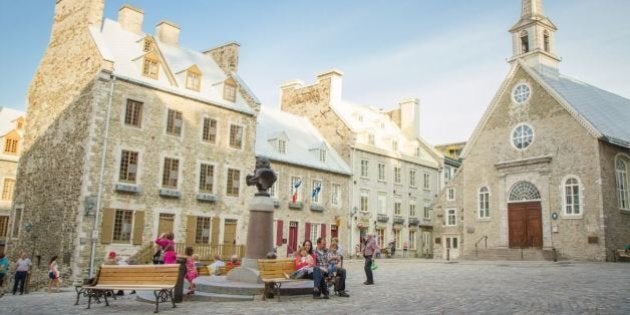 For a romantic getaway with European charm, head to Old Québec where you can find charming cobblestone streets, horse-drawn carriages and intimate French bistros right here on our own continent.
Québec City was founded way back in 1608. The original section, known as Old Québec, is the only neighbourhood in North America that has preserved its bastions and gates, lending it an old-world European flair.
We've rounded up steamy date ideas sure to sweep your beloved off their feet.
Take A Romantic Stroll Through The City
Old Québec is a UNESCO heritage site, meaning there's no shortage of charming, age-old buildings lining the cobblestone streets. Spend a leisurely morning meandering through narrow alleyways and visiting antique shops in the Old Port area and exquisite boutiques in Quartier Petit Champlain. Or take a stroll on promenade Samuel-De Champlain, named after the city's founder. It's a stunning boardwalk with a view on the St. Lawrence River built around a reclaimed industrial wharf that features an observation tower, themed gardens and lots of walking paths.
Nothing says romance like two lovers cuddling in a horse-drawn carriage beneath the stars. It's a magical experience from a bygone era that perfectly suits a city that sometimes feels frozen in time.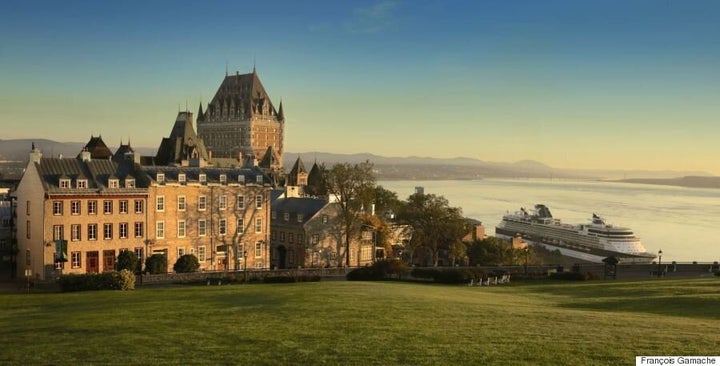 Enjoy An Intimate Tête-à-tête At Château Frontenac's Bar
Château Frontenac has access to the most stunning views in all of Québec City. Its imposing presence atop a cliff overlooking the St. Lawrence River gives this landmark a special status all on its own. The 1608 Wine & Cheese Bar in the hotel offers an exquisite selection of top local cheeses and a vast selection of quality wines. Share a beautifully arranged platter while enjoying a tête-à-tête.
Pack A Picnic And Head To Terrace Dufferin
The Terrace Dufferin boardwalk overlooking the St. Lawrence River is the perfect spot for a romantic picnic for two. Pack a basket with a fresh baguette or buttery croissants from Café-boulangerie Le Paillard or l'Épicerie J.A. Moisan alongside an assortment of delectable local cheeses, charcuterie, homemade jams, and desserts for the perfect afternoon.
A Candlelit Dinner At Saint-Amour
Awaken your senses at Saint-Amour, a not-to-be-missed fine dining destination in Old Québec and a long-time foodie favourite. French terroir cuisine, a lush indoor garden, and one of the most impressive wine cellars you'll ever come across -- if that doesn't say romance, what does?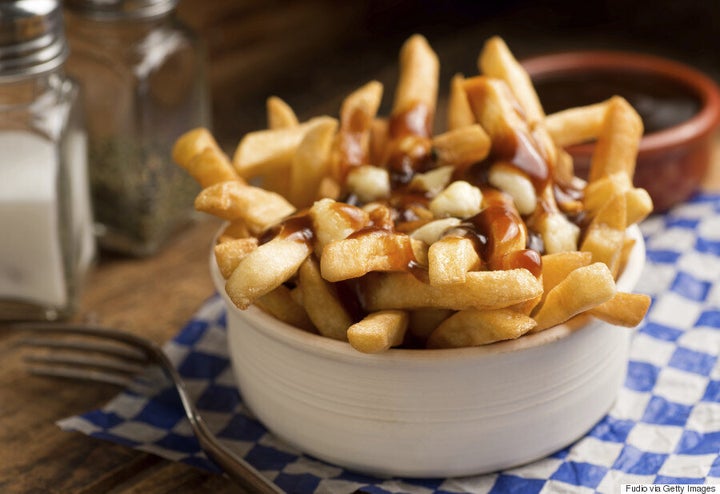 Visiting on a budget and can't afford to make every meal a grandiose affair? Money should never stand in the way of romance. Head over to Snack Bar Saint-Jean and re-enact the spaghetti scene from Lady and the Tramp, but this time with a string of melted cheese. Share a poutine, an affordable and quintessentially Québec offering of French fries, gravy and cheese curds. This place stays open until 5 a.m. so you can save it for your after-hours fun.
Is there anything more relaxing and sensual than a day at the spa? Sibéria Station Spa is one of the best in town. Spend the day enjoying the outdoor hot tubs, relaxing in the Finnish-style sauna and eucalyptus steam baths or get a couple's massage. You'll love life (and each other) more than ever after all this pampering.
The region's famous joie de vivre certainly shows up in everyone's love for weekend brunch. Poached eggs, duck rillettes, salmon tartar and buckwheat pancakes are on the menu at this stylish place in the classy Saint Roch district.
They also prepare gourmet lunch bags for those picnicking in style, so take notes for next time. With Old Québec, there'll always be a next time.
Old Québec, a UNESCO world heritage treasure, is alive with history. See for yourself and book a trip now. So Europe. So close.