KFC was roasted extra crispy on Thursday after it tweeted an NSFW photo in an effort to promote a "hot and spicy" offering.
The fast food chain's Australian division posted the following image to its Twitter account.
It showed a woman reaching in the area of a man's genitals, though what's happening has been blurred out: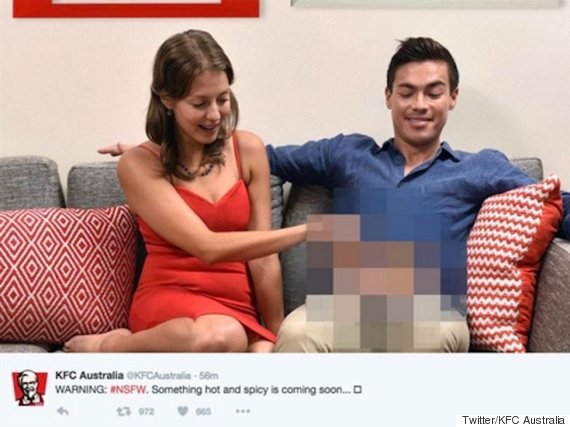 Backlash followed swiftly. Some made a joke out of it.
KFC stole the idea from this McDonalds ad where a woman is giving her boyfriend a big mac pic.twitter.com/vc3sVuhTM2

— Reid Parker (@ReidParker_) April 15, 2016
all i'm saying is that it works with a lot of @KFCAustralia ads pic.twitter.com/6H9FLbPzKw

— ☹ Illy Bocean ☹ (@IllyBocean) April 15, 2016
KFC, if you are experiencing "hot and spicy" sensations in your genitals, I recommend you speak to a doctor pic.twitter.com/iGaYDdXTI0

— mat whitehead (@matwhi) April 14, 2016
Wait, is KFC introducing jerk chicken? Was that the joke?

— barry (@barrysaunders) April 15, 2016
Others didn't see anything funny about the ad.
Misogyny manifested by sexual discrimination,belittling of women, violence against women, and sexual objectification of women. @KFCAustralia

— Casey Phoenix (@caseyphoenix) April 15, 2016
KFC Australia posted a seriously disturbing tweet

— Olivia Claire (@OClaire1029671) April 15, 2016
KFC Australia eventually took the ad down and posted this apology.
We are very sorry for our earlier tweet on H&S - we didn't mean to offend and removed it when we realised we'd made an error in judgment.

— KFC Australia (@KFCAustralia) April 15, 2016
What would Colonel Sanders think?
Also on HuffPost:
KFC Collaboration: When Fashion Meets Chicken