Le Québec maritime
Québec's maritime regions are rich in scenery, wildlife, culture and culinary discoveries that are just waiting to take your breath away. It's a collection of four tourist regions -- Bas-Saint-Laurent, Gaspésie, Côte-Nord and the Îles de la Madeleine -- all located along the St. Lawrence River. The stunning body of water is home to 13 different species of whales thus making whale-watching one of the most popular activities in the region. But in addition to that are beaches, hiking trails and excellent food that all collectively prove that a trip to the East of Quebec is a great choice for your summer vacation.
The Incredible Beaches
You want stretches of white-sand beaches? Look no further than the Îles de la Madeleine, also known as Magdalen Islands or the Maggies. Located in the middle of the Gulf of St. Lawrence in Eastern Québec, these islands have gorgeous white sand beaches. Pick your favourite spot, settle on a towel and enjoy uninterrupted hours of calm relaxation.
The Opportunities For Outdoor Sports
The maritime regions of Québec have all an athlete needs. From hiking and cycling, to kayaking and kite-surfing, there's something here to entice everyone. Île aux Lièvres in Bas-Saint-Laurent, for example, is a hiker's paradise with 13 kilometres of trails in varying levels of difficulty. Explore the forest, shores and wildlife in a day or stay the night at Auberge du Lièvre, a charming inn with spectacular views of the St. Lawrence River.
The National Parks
The maritime regions of Québec are home to 10 breathtaking national parks. Whether you're looking for adventure or seeking peaceful escape, this summer vacation is for you. Pitch a tent on one of Lac-Témiscouata National Park's 76 campsites or dig through the paleontological site of Miguasha National Park. You also have to see the limestone monoliths at Mingan Archipelago National Park Reserve. These stunning rock structures stand confidently amongst lighthouse stations and rare vegetation at this national park.
Excellent Seafood And Amazing Terroir Cooking
The great thing about travelling to Québec's maritime regions is that you'll be spoiled with the best quality seafood. Does the idea of dining on lobster, scallops and snow crab make you salivate? Then they've got you covered. Anything you could possibly crave you'll find right in Québec's maritime regions. The culinary options go way beyond seafood too. Be sure to try cloudberries, a fruit local to Côte-Nord that's best enjoyed in desserts or in an after-dinner drink. Game meat, local cheeses, bakeries, culinary workshops and regional alcoholic beverages complete the picture.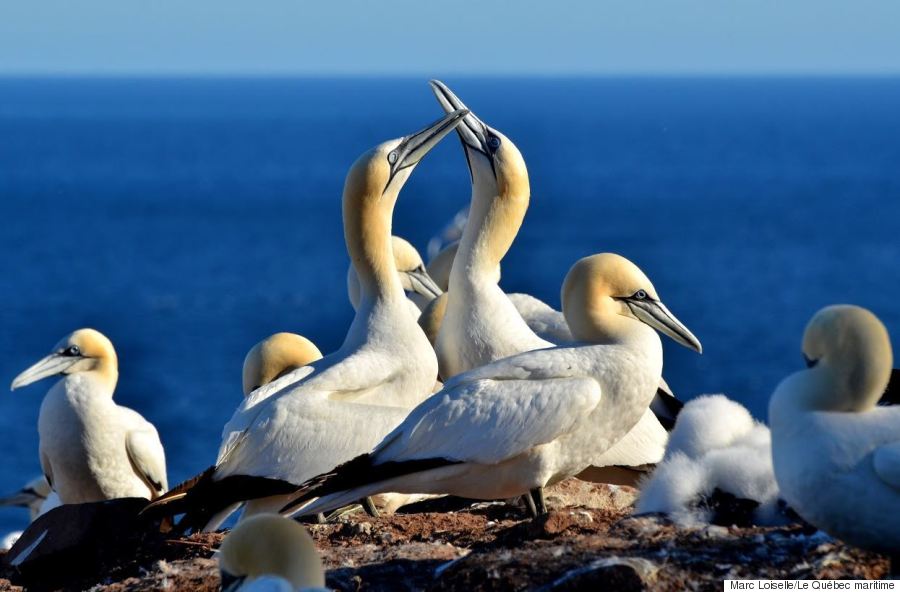 The Bonaventure Island Is For The Birds!
No, we really mean it. If you're into bird watching, this is the place to be. Bonaventure Island and Percé Rock National Park in Gaspésie is home to the largest migratory bird refuge in North America. Every nook and cranny of the island is occupied by birds -- an estimated 200,000 of them, with 120,000 of that population being northern gannets. If you enjoy nature and bird watching, this island is a sight for sore eyes.
The French Charm
Let the charm of the maritime regions of Québec captivate you! Visit Île Verte (Green Island) in Bas-Saint-Laurent and unwind in Maisons du Phare de l'Île Verte, a bed and breakfast located in two buildings adjacent to Québec's first lighthouse. It's also worth a trip to Minganie region in Côte-Nord to see the stunning pastel interior of Rivière-au-Tonnerre church. The structure was built by the townspeople in the early 20th century.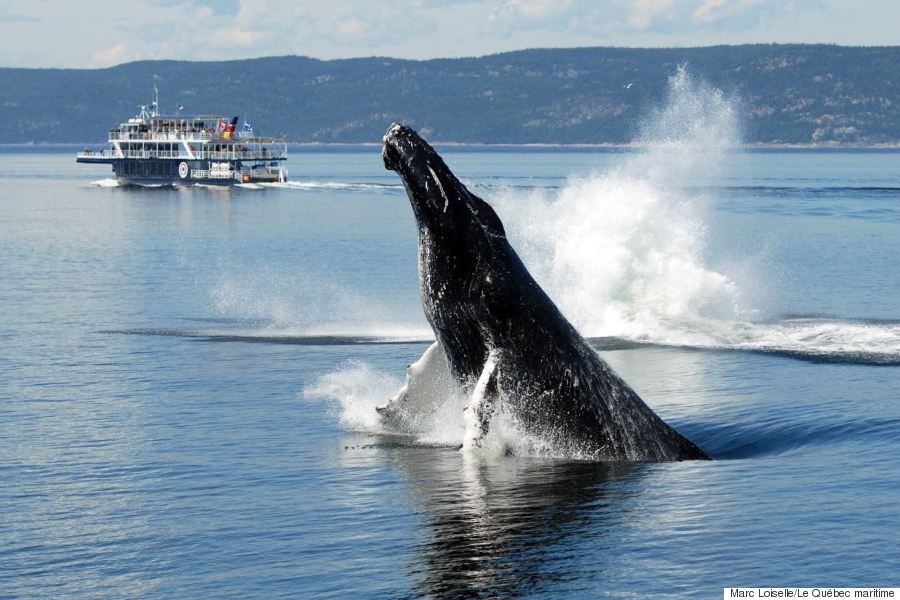 Whale Watching
Seeing a whale in its natural habitat is a once-in-a-lifetime experience and Côte-Nord is recognized as one of the best places to do it. The coastline of this region, also known as the Whale Route, is 1,250 kilometres of awe-inspiring nature. Explore the area by boat or kayak to observe these magnificent mammals.
After you've filled up on fresh air, spectacular views and unforgettable memories, you'll now understand why the maritime regions of Québec can be tough competition for any other destination.
Québec's maritime regions in Canada are the perfect summer holiday destination. Taking a trip here is the best way to feel the French Canadian charm.