UPDATE - April 17, 2016: St. Albert Fire Services released incredible video of just how dangerous a brush fire northwest of Edmonton became.
Firefighter Vincent Pashko was pulling hose to fight the flames when a tornado of smoke came up on him, reported CTV News, and he was forced to jump into Sturgeon Lake for safety.
He suffered minor burns to his ears.
Truly incredible video of fire tornado that happened during brush fire causing our firefighter to escape into river pic.twitter.com/8BdeZDfeL5

— StAlbertFirefighters (@saffu2130) April 17, 2016
Crews from multiple fire stations were called out to Big Lake, just northwest of Edmonton, on Thursday.
Dry grass and strong winds allowed the grass fire to quickly spread, making it difficult for crews to control, St. Albert firefighters wrote on Facebook.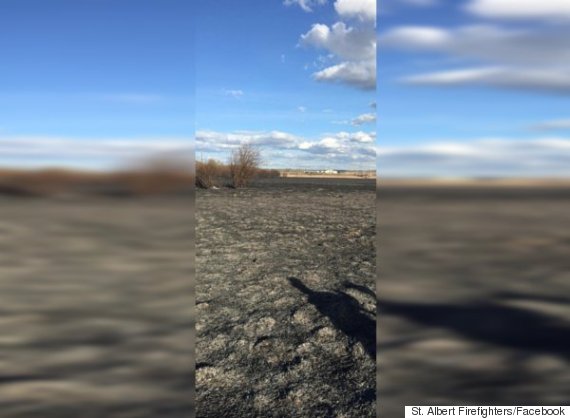 Burnt ground left behind after a brush fire near Big Lake, Alta. (Photo: St. Albert Firefighters/Facebook)
The flames it became so dangerous that crews had to pull back.
When the blaze got too close, the firefighter was forced to jump into the Sturgeon River for safety.
He was treated at Sturgeon Hospital, and has since been released.
Also on HuffPost:
Photo gallery

Vancouver Firefighters Save Dog From Burning House

See Gallery