WINNIPEG — Indigenous and Northern Affairs says its offices are expected to reopen despite the fact protesters continued to occupy two of those offices in Toronto and Winnipeg over the weekend. Claudia Fournier, a spokesperson for the department, says in an email that while those offices remained occupied on Sunday, the department anticipates they will open again on Monday. However, she says the department "will assess the situation in each region as it evolves." Protesters took over the Toronto and Winnipeg offices of Indigenous and Northern Affairs last week, calling for more to be done to address youth suicides in aboriginal communities, including Attawapiskat in Ontario and Cross Lake in Manitoba. The department responded by closing the offices, and also closing its offices to the public in other cities, including Gatineau, Que., Regina, Edmonton, Calgary and Quebec City.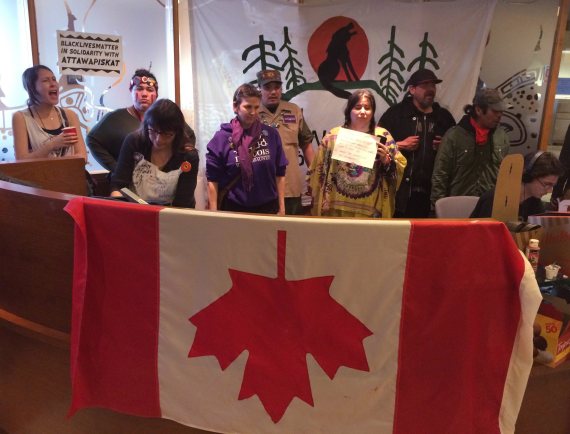 A group of activists for aboriginal rights are staging a sit-in at the Toronto offices of Indigenous and Northern Affairs Canada in solidarity with a remote Ontario First Nation struggling with a suicide crisis. (Photo: Frank Gunn/Canadian Press)
Raquel Kirton, who was among close to 20 people occupying the Winnipeg office on Sunday afternoon, says the protesters are staying put. "We don't have any intentions of leaving any time soon," Kirton said, adding the group has been in touch with the Toronto protesters. "We're doing this for the youth that are facing this in Attawapiskat and Cross Lake."
"We don't have any intentions of leaving any time soon."
Indigenous and Northern Affairs Minister Carolyn Bennett will visit Attawapiskat on Monday, along with Timmins-James Bay MP Charlie Angus, the NDP critic for aboriginal affairs. But the protesters occupying the Winnipeg office have said they want Prime Minister Justin Trudeau to meet with the youth of Attawapiskat, Cross Lake and other communities. In a video statement posted online Friday and read by Kirton, the group says it also wants the Indian Act and Canada's system of reserves abolished, as well as other demands met such as adequate health care, housing and education for aboriginal communities.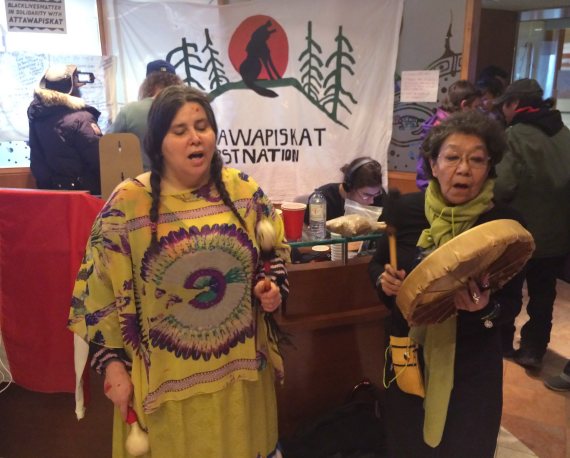 Activists for aboriginal rights are staging a sit-in at the Toronto offices of Indigenous and Northern Affairs Canada in solidarity with a remote Ontario First Nation struggling with a suicide crisis. (Photo: Frank Gunn/Canadian Press)
"We will continue to assert our sovereign right to occupy this space until the Crown, so-called government of Canada, and so-called chief and council, acknowledge this statement and the commands within," Kirton says in the group's statement. Supporters of the Winnipeg occupation held a round dance on Sunday on the street outside the office. The federal department said in an email late last week that it was working to resume some of its services at alternate locations due to the office closures. "We recognize the public's right to engage in peaceful protests and lawful assembly and are balancing that against the need to ensure public and staff well-being," the statement said.  — by Rob Drinkwater in Edmonton
Also on HuffPost