In an effort to generate as much money as possible to slay its deficit, Newfoundland and Labrador has decided to implement a tax on ... books.
The Telegram reports the province, which introduced a budget last Thursday full of new fees and deep cuts, will up its harmonized sales tax (HST) to 15 per cent and slap it on book sales next year.
Gavin Will, who owns a publishing company, told CBC News the tax will have an "immediate" effect on book sales in a province that already has Canada's lowest literacy rate.
The move would make Newfoundland the first province to impose such a tax. P.E.I and Nova Scotia considered a similar idea years ago, but eventually ditched it.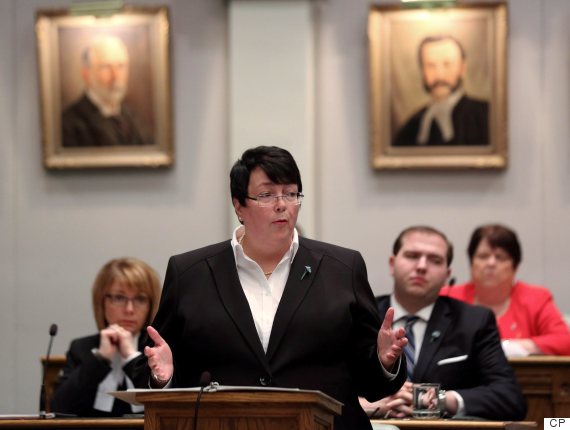 Newfoundland and Labrador Finance Minister Cathy Bennett presents the 2016 provincial budget at the House of Assembly in St.John's last week. (Photo:Paul Daly/The Canadian Press)
"It sends a message that the government doesn't necessarily care about literacy, authors or the book publishing sector," Wills said in a CBC interview.
Alison Dyer, executive director of the Writers' Alliance of Newfoundland and Labrador, told The Telegram that the tax isn't even expected to net that much money.
Tax hikes galore
The province's budget, which despite the tax increases and cuts still forecasts a $1.8 billion deficit, has been blasted by critics as a "Tax on Pretty Much Everything Budget." Income taxes, as well as gas and cigarette taxes, are going up.
Finance Minister Cathy Bennett blamed 12 years of Progressive Conservative rule that ended when the Liberals won power last fall, promising "a stronger tomorrow."
She accused the Tories of squandering historic wealth with spending increases and tax cuts hinged on volatile oil prices that have since crashed.
"The previous government's willingness to mortgage our future has left Newfoundland and Labrador with the biggest deficit and highest net debt ever recorded in our history," Bennett said in her speech to the legislature.
With files from The Canadian Press
Also on HuffPost
Federal Budget 2016 Highlights