TORONTO -- The Canadian dollar was trading lower Monday morning after the price of oil took a hit.
The loonie was down 0.45 of a cent at 77.45 cents U.S. after oil-rich countries failed to reach an agreement Sunday on freezing production.
The currency has been "one of the main victims of the sharp fall in crude prices at the open today," said RBC currency strategist Adam Cole, as quoted at the Globe and Mail.
UPDATE 4/18/2016 4:45 pm ET: The market shock from the failed talks on an oil production cut was short-lived, with the Canadian dollar bouncing back Monday afternoon to close at 78.14 cents U.S. That erased all the losses from Mondaty morning's open.
The TSX was unfazed by the collapse by the end of the trading day, rising 82.62 points to 13,719.82. Energy and base metals stocks led the way.
Original story continues.
The effort to reach a consensus on freezing production to support prices failed after Iran stayed away from a weekend meeting of 18 oil producing countries in Qatar.
Eighteen oil-producing nations were at the Doha summit, with OPEC member Iran sitting out the meeting.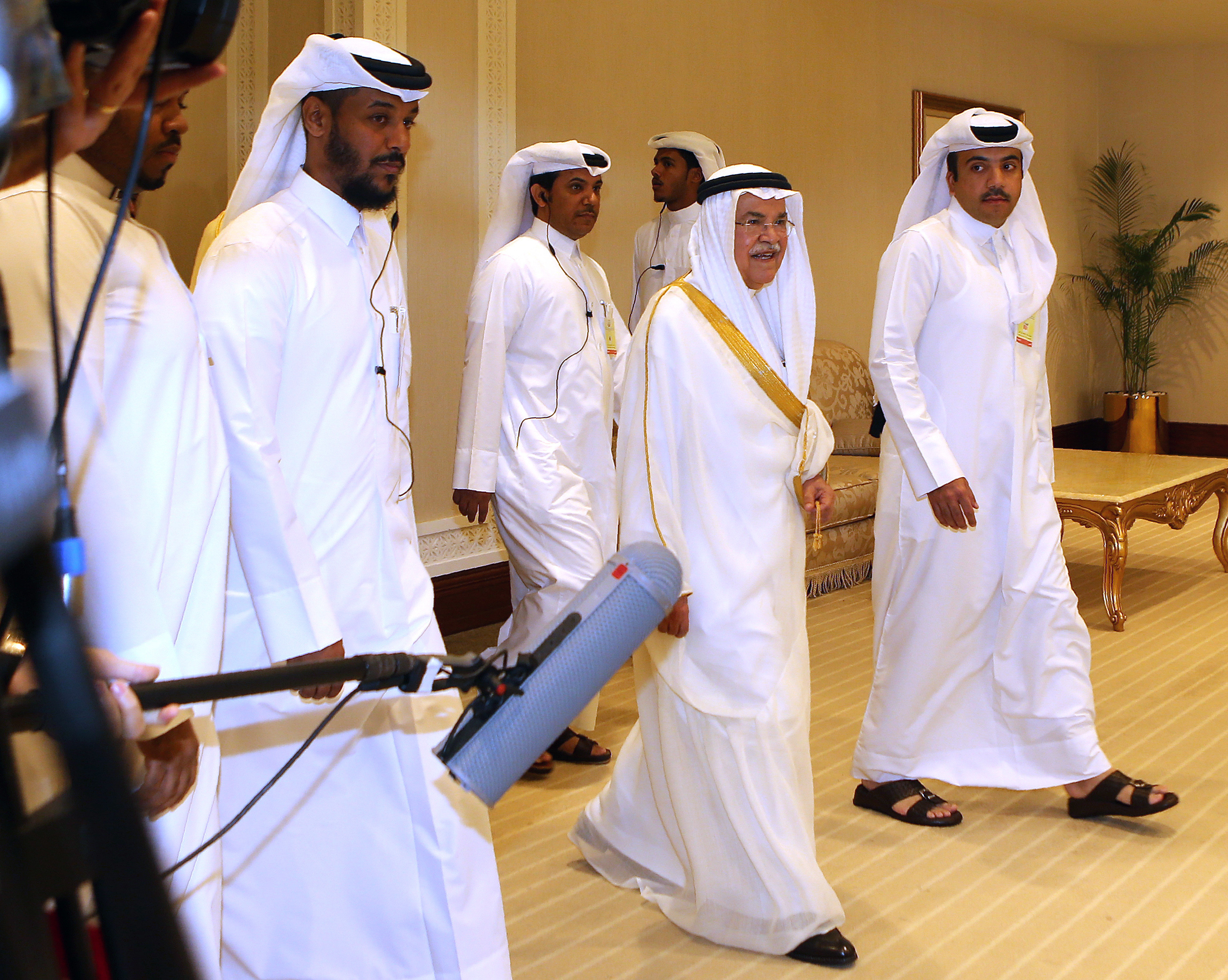 Saudi Arabia's minister of Oil and Mineral Resources Ali al-Naimi (C) arrives for the organization of Petroleum Exporting Countries (OPEC) meeting, in the Qatari capital Doha, on April 17, 2016. (Getty Images)
Those in Qatar discussed a proposed freeze on crude oil production to January levels as a means to increase global oil prices, which are just over $40 a barrel after being more than $100 in mid-2014.
Iran has pledged to keep increasing its production to pre-sanctions levels after the nuclear deal with world powers, incensing its regional rival Saudi Arabia.
"Money is flying away from the loonie after after oil producers failed to reach an agreement in Doha," said London Capital Group analyst Ipek Ozkardeskaya.
The decline could pick up speed, she warned.
"Selling pressures on the Canadian dollar could gain further momentum along with crude digging in deeper below the $40 level," Ms. Ozkardeskaya said.
The price of the May crude oil contract fell US$1.52 to US$38.84, while the June contract dropped US$1.51 to US$40.20.
-- The Canadian Press, with files from The Associated Press and The Huffington Post Canada
Also on HuffPost
Canadian Dollar Through History