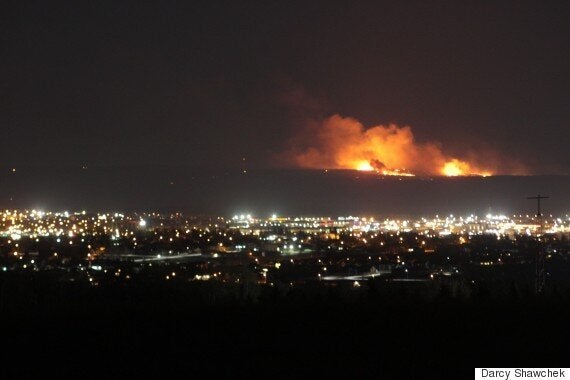 FORT ST. JOHN, B.C. - A state of emergency remains in effect, but residents forced from their homes by numerous wildfires around the northeastern B.C. city of Fort St. John may get a break from the weather.
Environment Canada says winds will continue to gust up to 50 kilometres per hour, but the nearly 30 degree temperatures recorded Monday are forecast to barely skim the mid-teens on Tuesday and rain should arrive by the end of the week.
Heat and wind are blamed for fanning fires that prompted evacuation orders in three areas around Fort St. John, including South Taylor Hill, Charlie Lake and Baldonnel.
A post on the city's Facebook page said three structures had been lost by Monday evening, but it also said the Baldonnel blaze was 50 per cent contained.
In Prince George, a grassfire in the Valleyview subdivision forced the evacuation of about 40 properties Monday afternoon when flames jumped into the trees, but Deputy Fire Chief Cliff Warner said no homes were lost and the fire was under control by early evening.
Crews also had to rush in heavy equipment to build a guard around a blaze that broke out late Monday in the Foothills Landfill north of Prince George, but nearby roads remain open, despite heavy smoke.