Former Guantanamo inmate Omar Khadr is getting married, according to media reports.
A friend of the 29-year-old confirmed his engagement to human rights activist Muna Abougoush, according to CTV News.
Abougoush, a University of Alberta graduate, played a key role in rallying a network of supporters to advocate for Khadr's freedom. She helped keep his case in the news and encouraged people to write letters to him while he was in jail.
Postmedia cited Facebook posts congratulating the couple on their upcoming nuptials, including one that read: "I am so happy to think you will be sharing your future together after so many years of shared past."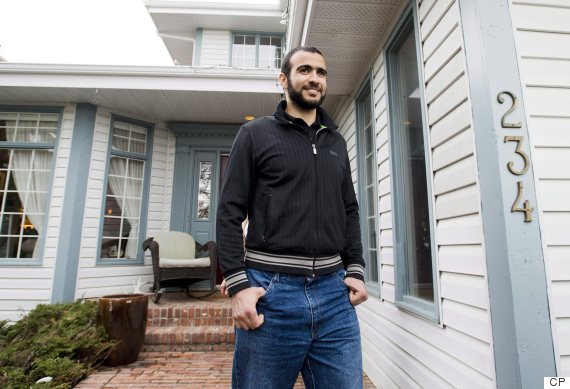 Omar Khadr walks out the front door of his lawyer Dennis Edney's home to speak the media in Edmonton on May 7, 2015. (Photo: Nathan Denette/The Canadian Press)
In 2013, Abougoush met the former child soldier for the first time while visiting him at the medium-security Bowden, Alta. prison he was serving his sentence at.
She admitted she was "nervous" when it came time to meeting Khadr in person after years of supporting his case from behind the scenes.
"This case that everyone had been talking about for over a decade was about to become a real person," she told the Toronto Star at the time.
She told the newspaper their conversations broached topics that ranged from "schools, different education paths, cars."
Plea to Canadians
Khadr was 15 when he was captured wounded in Afghanistan during a firefight. At the time, he was the youngest prisoner and only Westerner to be held at Guantanamo Bay.
He pleaded guilty to multiple war crimes in 2010 and was sentenced to an additional eight years in prison by a United States military commission.
"I'll prove to them that I'm a good person."
In 2012, he was transferred to serve the remainder of his sentence in Canada. After nearly 13 years behind bars, Khadr was granted bail last year. He asked Canadians to give him a chance.
"I will prove to them that I'm more than what they thought of me, I'll prove to them that I'm a good person," he told reporters.
The former Conservative government condemned the judge's decision at the time, releasing a statement saying, "(We) regret that a convicted terrorist has been allowed back into Canadian society without having served his full sentence."
Abiding by one of his bail conditions, he currently lives in Edmonton with his lawyer Dennis Edney.
With files from The Canadian Press
Also on HuffPost
In Photos: Omar Khadr Freed