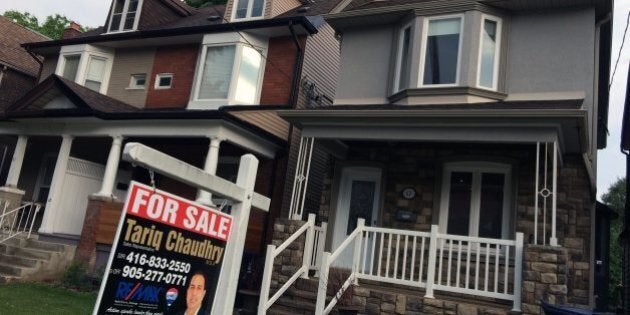 Canada's housing markets have diverged to the point that some cities are seeing the best home affordability on record, while affordability in other cities hits its all-time worst.
Count Toronto and Vancouver in the "all-time worst" category. Prices in those two cities have soared in the past few years, making detached homes there the least affordable they have ever been on record, National Bank Financial said in a report Wednesday.
For all home types, including condos, Toronto affordability is the worst it's been in 20 years, while in Vancouver it's "very close to the top of its range of recent years," NBF economists Matthieu Arseneau and Kyle Dahms wrote.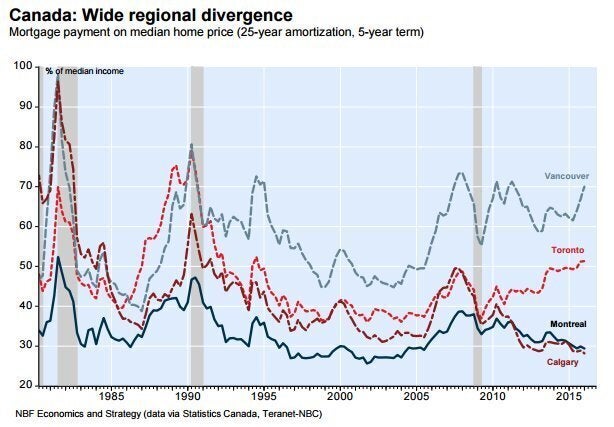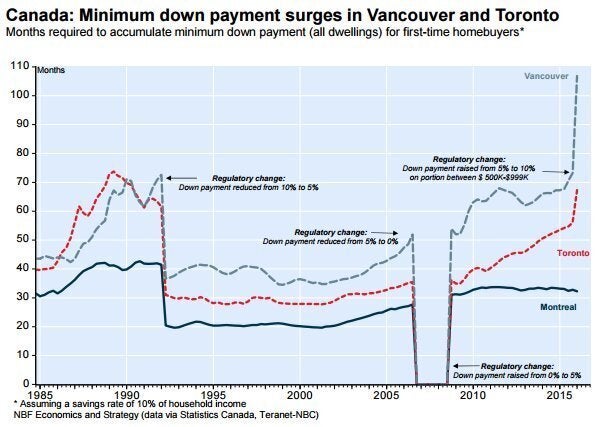 "And this at a time of record-low interest rates," the economists added.
Meanwhile, home affordability in Montreal is the best it's been in a decade, and in Calgary it's the best on record, the NBF report said. It's also the best on record in Edmonton and Ottawa-Gatineau.
Mortgage down payments soar
The Liberals' new mortgage rules have caused average down payments to soar in cities where houses typically sell above $500,000, meaning Toronto and Vancouver.
Vancouver's down payment requirements are now far higher than they have ever been on record, requiring nearly 107 months of savings, on average, for all housing types, National Bank Financial said.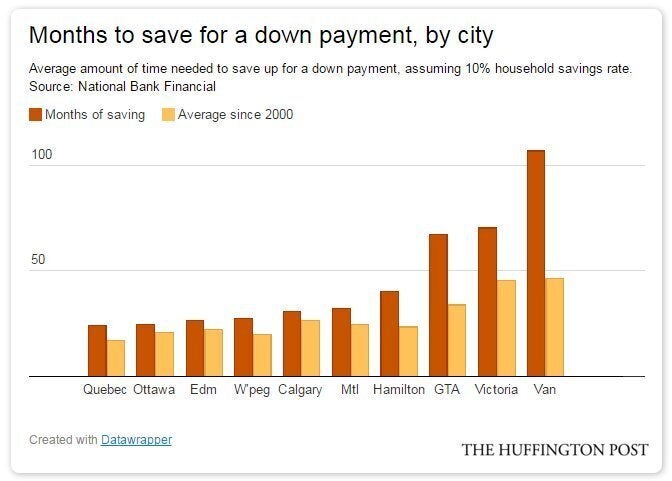 In Toronto, down payment requirements are approaching 70 months of savings, on average. That's a level of unaffordability not seen in the city since the late 1980s and early 1990s, when rising interest rates caused a housing bubble to pop, depressing house prices for a decade or so.
For both Toronto and Vancouver, the time needed to save for a down payment is now double the long-run average.
The new mortgage rules require a 10-per-cent down payment on the portion of a house's price above $500,000. The rule was meant to cool off Toronto and Vancouver's housing markets, while leaving other markets, where most homes sell for below $500,000, largely untouched.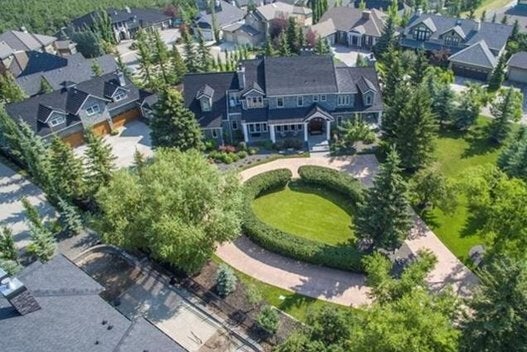 Calgary's Priciest Luxury Homes For Sale (April 2016)